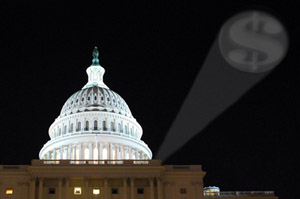 Party leaders in both chambers have named their picks for the "super committee" created in the deal President Barack Obama and Congress struck to raise the nation's debt ceiling. The committee will be co-chaired by Sen. Patty Murray, D-Wash., and Rep. Jeb Hensarling, R-Texas.
By the day before Thanksgiving, the 12 lawmakers must report recommendations to trim at least $1.2 trillion in federal spending over the next decade. If the committee members don't reach consensus, or if Congress does not approve a package they offer by Dec. 23, a series of automatic spending cuts would kick in by 2013, creating additional pressure on the panel to act.
Here's a guide to how the panel's deliberations could influence Medicare and Medicaid.
Q: Aren't Medicare and Medicaid protected from cuts right now?
A: Yes-and no. The debt deal, which was signed into law by the president on Aug. 2, makes $917 billion in discretionary spending reductions during the next decade. Neither Medicare nor Medicaid would be touched in those reductions.
However, that changes a bit in the second round of funding cuts called for in the law. Between now and Nov. 23, the super committee is asked to find at least an additional $1.2 trillion in debt reduction over 10 years. The panel can make those recommendations by changing any part of the budget. The committee could recommend cuts in entitlement programs, including Medicare and Medicaid. It could also propose tax increases.
Q. Won't deep differences between the parties over the structure and future of entitlements and taxes prevent the panel from reaching any agreement?
A. Democrats are sure to insist on tax increases to match any spending cuts, which will anger Republicans, and Republicans will surely want entitlement cuts, which will upset Democrats.
Stan Collender, a partner at Qorvis Communications and former congressional budget staffer, said he gives less than 5 percent chance the committee will come to an agreement that Congress will approve. "In an era of hyper-partisanship have you seen any other special committee of elected officials come up with some broad-based deficit reduction package looking at tax increases and spending cuts?" he asks.
If Congress doesn't agree on a debt plan, the current law has a trigger mechanism that will automatically guarantee the $1.2 trillion savings beginning in 2013 through cuts in defense and other federal spending. Included in these cuts would be is a 2 percent reduction in Medicare payments to hospitals and other providers. Medicaid funding would not be touched by that trigger.
Sen. Pat Roberts, R-Kan., describes the idea of across-the-board cuts as "Armageddon" because of their severity and that half of the cuts would have to come from defense. "You can't cut defense by 50 percent. You can't cut Medicare providers, including doctors, more," Roberts said.
Q: There have been plenty of commissions that have worked on debt reduction, including the Simpson-Bowles panel last fall. What makes this different?
A: The threat of the automatic, across-the-board spending cuts is what gives the debt panel more clout than its predecessors, including a commission established by Obama and co-chaired by former Sen. Alan Simpson, R-Wyo., and former President Bill Clinton's chief of staff Erskine Bowles. Many lawmakers dislike the idea of surrendering any power over the federal purse, especially when it could mean that spending on a favorite program could be at risk.
The committee will look at many of the same alternatives as the deficit task forces earlier this year formed by Obama and the Bipartisan Policy Center, which was headed by President Clinton's budget director Alice Rivlin and former Senate Budget Committee chairman Pete Domenici, R-N.M., and a plan formulated by a bipartisan group of senators known as the Gang of Six.
Q. What else will the super committee be looking at?
A. Among some of the alternatives expected to be considered are Medicare premium supports, which would give enrollees vouchers or credit to purchase a private insurance plan rather than having the government directly pay for covered services; converting Medicaid to a block grant program, which would also limit federal funding; or asking higher-income Medicare beneficiaries to pay more for their coverage. Changes in spending for the 2010 health care overhaul may also be considered.
Collender doubts Democrats on the committee would accept major changes to either Medicare or Medicaid.
"I don't see the trigger as a sort of sword hanging over their head," he said, noting that Congress can always vote again to reverse the cuts planned under the trigger. He said if the economy continues to falter, he would doubt Congress would allow funding cuts to occur.
But Bob Crittenden, executive director of the liberal Herndon Alliance, said Medicaid is most at risk in the super committee because the group is unlikely to agree on cuts to Medicare or Social Security.
Steve Bell, senior director or the economic policy project at the Bipartisan Policy Center, said he expects the super committee will lead Congress to make some cuts to the deficit but no dramatic restructuring to entitlement programs. That's because the savings goal is not high enough and the two political parties can't agree on the main options to reduce spending in Medicare and Medicaid. "You will get out of this what you got out of the last four months-something mushy in the middle that does not address the underlying fiscal crisis," he said.
Q. Why are Medicare and Medicaid part of the debt discussions?
A. Medicare and Medicaid make up about 23 percent of federal spending and their costs have been growing faster than the overall economy. Spending for both programs is rising as a result of overall cost of health care, but each has its own issues. Medicare costs have climbed partly due to the aging population, which has meant more people are eligible for coverage under the program. Medicaid costs increased with the recent economic downturn, which led to dramatic uptick in enrollment as people lost jobs and private health coverage.
Q. What do doctors and hospitals say about the cuts proposed as part of the automatic trigger?
A. Although the debt ceiling law says that only Medicare providers could face cuts, providers say those reductions could impact their ability to deliver medical care and impact beneficiaries.
"From our view, there's no separation between these kinds of provider cuts and something that will affect beneficiaries," said Chip Kahn, president and chief executive officer of the Federation of American Hospitals. "It will affect the way providers operate and at some point this artificial separation between things that affect beneficiaries and provider cuts has got to be identified for what it is – an artificial break. If it affects providers, it affects beneficiaries."
Rich Umbdenstock, the American Hospital Association president and chief executive, echoed that sentiment. In a statement, he said cutting hospitals will mean decreased access for seniors. "That's why the total Medicare program – including caregivers – should be exempt" from cuts that he said could overload emergency rooms, shut trauma units and reduce patient access to the latest treatments.
Q. How does a "fix" to Medicare's doctor payments figure into the issues facing the super committee?
A. At the end of the year, Medicare is scheduled to cut pay to physicians by about 30 percent. That is caused by a budget rule adopted years ago. Since 2003 each time the requirement has come due Congress has averted it. Some analysts argue that the debt reduction efforts and the need to fix the doctor reimbursement formula could collide, especially because of the cost of fixing doctor pay. Pushing the issue off for another year would cost about $25 billion, although doctors have been pressing for a two-year fix at a cost of roughly $50 billion. These fixes would add to the nation's deficit and complicate the super committee's work.
Q: What impact could the committee have on funding for the health law?


A: Since there are no limits on what the panel can consider, it could cut funding for the health law's implementation. The measure's supporters fear that such cuts could weaken the law's reach and effectiveness. If no agreement comes out of the committee's work or the committee produces a package and Congress rejects it, the automatic, across-the-board cuts could trigger reductions in several areas. That could include funds for disease prevention or grants to help states establish insurance exchanges and review health insurers' rates.
Subsidies provided in the law to help eligible people buy coverage would be protected from automatic cuts because they are refundable tax credits and so are shielded. But other subsidies created in the law – to help low-income people pay out-of-pocket expenses – could be reduced.
Q. This sounds similar to the BRAC (Base Realignment and Closure) commission used by Congress to decide which military bases to close. Will it work the same?
A. BRAC was an independent nine-member panel appointed by the president that evaluated which bases to close from 1998 to 2005. Once that list was approved by the president, Congress could change it only by voting down the list in its entirety.
Similar to BRAC, the super committee's recommendations will face an up-or-down congressional vote. Congress will not be able to amend the recommendations. But the super committee's charge is far broader than BRAC since it will be able to make recommendations on cutting or changing any type of government program. It also will have to grapple with deciding whether to recommend raising taxes.
"This is a heckuva lot bigger than BRAC-the concept is the same-but its purview is the broad range of government and entitlement programs," said Robert Bixby, executive director of the nonpartisan Concord Coalition, a budget watchdog group. He gives the committee less than a 25 percent chance of coming to an agreement.