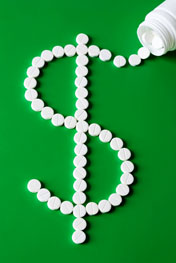 How do pharmaceutical companies boost sales and drive up health costs? Pay celebrity doctors to talk about their pills. Take doctors on lavish junkets. Misrepresent research. Push pills for unapproved uses.
None of which comes as news, given previous revelations. Documents unsealed as part of GlaxoSmithKline's settlement with federal prosecutors, however, offer a rare look at the details. Glaxo agreed to pay $3 billion to settle allegations it promoted drugs for unapproved uses, marketing Paxil for children's depression; Wellbutrin for obesity, sexual dysfunction and attention deficit; and Advair as a first-line treatment for asthma.
According to the Justice Department's complaint and exhibits, both of which were unsealed Monday:
— Through its public relations firm, in 1999 Glaxo paid Dr. Drew Pinsky (Loveline, Celebrity Rehab with Dr. Drew) $275,000 to promote Wellbutrin "in settings where it did not appear that Dr. Pinsky was speaking for" Glaxo. (Here are the invoices.)
— On a radio show Pinsky said the active substance in Wellbutrin "could explain a woman suddenly having 60 orgasms in one night" even though Wellbutrin was approved to treat only major depression, the complaint said. (Pinsky and his publicist did not respond to requests for comment.)
— Glaxo promoted Wellbutrin "as what some sales representatives referred to as 'the happy, horny, skinny pill,'" the complaint said, adding that Glaxo "did so knowing that much of the cost of the unapproved, non-medically accepted and/or inappropriate uses would be borne by federal health care programs."
— In 2000 and 2001, Glaxo flew psychiatrists to resorts such as El Conquistador in Puerto Rico and Renaissance Esmeralda in Palm Springs, Calif., to promote Paxil for children, even though it was unapproved for that use, the complaint said. "Results suggest that the Paxil Forum had a significant impact on Paxil market share in the months after attendance," a Glaxo memo said.
— Glaxo launched a campaign in 1999 called "Operation Hustle" to market Wellbutrin for non-FDA approved uses including weight gain and sexual dysfunction in combination with depression, the complaint said.
— The company paid what prosecutors described as kickbacks to doctors in the form of consulting fees, entertainment, travel and "sham advisory boards" and then carefully monitored the prescribing habits of physicians receiving largess. A Glaxo memo emphasized that only "KEY Customers" (high-prescribing doctors) should get free tickets to Boston Bruins and Celtics games.
— "When I asked for the business he laughed," one Glaxo sales rep said of a doctor whom he had treated to a St. Louis Cardinals baseball game. "I didn't really see the humor in it. How could he think I wouldn't ask for the business when I've treated his family to a day at the ball park."
Many of these kinds of payments to doctors will have to be disclosed in the future, thanks to the Physician Payment Sunshine Act, included in the 2010 health overhaul, although the details are still being worked out.
On Monday Glaxo CEO Andrew Witty said, "I want to express our regret and reiterate that we have learnt from the mistakes that were made."