This week the federal government signed off on the first part of a plan that could eventually steer more than 3 million low-income Floridians on Medicaid into a managed care, or HMO system. The decision comes two years after Florida lawmakers approved the conversion in an attempt to control costs in the $21 billion program.
At that time, retirees were skeptical of how it would work.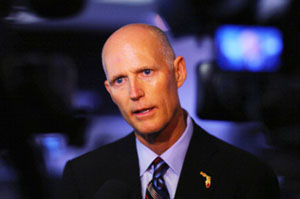 "For-profit companies have a fiduciary responsibility to do what? Make money. So they're not going to manage their care, they're going to ration their care," said Joseph Flynn, a retiree living in the Central Florida community of the Villages, where Gov. Rick Scott was holding a budget signing ceremony.
That skepticism has not gone away but now the federal Centers for Medicaid & Medicare Services has signed off on part of a waiver allowing Florida to begin its transition to managed care for Medicaid recipients in long-term care.
Under the state's current fee-for-service model, when the patient goes to a nursing home, hospital or doctor, the health provider bills the state, and the state cuts a check. But that system is expensive, difficult for frail patients to navigate and doesn't necessarily result in good care. Florida officials and industry representatives say managed care will be an improvement. 
"Let's just take medication compliance. That alone. That's a big issue for seniors, people in long-term care, because that can be very complicated," said Michael Garner, president of the Florida Association of Health Plans. He says managed care has a number of ways to help boost health outcomes, starting with something as simple as helping people manage their medications.
"Managed care plans have a number of techniques, [such as] having a nurse come out and do pill counts," Garner said. "So just on pharmaceutical management, we can do a tremendous thing to improve the continuity of health for that individual and lower cost."  
In the new Medicaid managed care model, Florida will be paying health plans in various regions of the state a set amount of money per person to treat the elderly and disabled in long-term care. The waiver affects 87,000 Medicaid recipients in long-term care. It provides $417 million in the first year to take care of 36,795 beneficiaries in home- and community- based services, according to the letter from CMS to the state health agency. These are patients who would otherwise qualify for nursing home care. 
The health plans will contract with doctors and other facilities to build networks for beneficiaries. Patients will be able to choose their plan and network. But elder law attorney Twyla Sketchley says Medicaid recipients, especially in rural communities, already have trouble getting access to doctors. "We don't know how, If we can't get it for private pay rates, how the managed care organizations will be able to provide it for probably less than what the private pay rates are going to be," Sketchley said.  
But the health plan association's Garner says the state will hold the managed care plans accountable for making sure enough health care providers are in their network. He also says while Medicaid reimbursements have always been low, the savings gained through better patient health outcomes will be used to raise reimbursement rates. 
Another aspect of the plan is to move some seniors out of nursing homes and into home and community-based programs, which are cheaper. But the Florida Healthcare Association, which represents the long-term care industry, has raised concerns about how much savings the state will achieve.
"In fact, there was a study done on Florida, and only about 1 percent of patients in nursing homes were found to be inappropriately placed," said the association's Executive Director Emmett Reed.
He says companies need to turn a profit to stay in business, but, "nursing homes operate on razor-thin margins already. Out of the entire medical profession, it's the least profitable," Reed said. "We're just curious to see how a company would be able to come in and significantly slash costs without affecting quality."  
Medicaid managed care is not a new concept in Florida. The state began a pilot project in five South Florida counties in 2006, with mixed results on care and cost. The state is still awaiting federal approval to move the larger Medicaid population into managed care.
This story is part of a reporting partnership that includes WFSU, NPR and Kaiser Health News.