OAKLAND, Calif. — James Lockett sits on his bed and opens the drawer of his nightstand, revealing a stash of asthma inhalers: purple disc-shaped ones he uses twice a day to manage his symptoms and others for full-blown attacks.
Lockett, 70, says he never leaves home without an emergency inhaler.
His senior housing complex in East Oakland is less than a mile from Interstate 880, a major corridor for freight trucks shuttling to and from the Port of Oakland. On the way to factories and warehouses, the trucks often roll through streets near homes, schools and libraries.
The diesel-fueled big rigs are a major source of air pollution, spewing soot and other pollutants that can cause or aggravate respiratory conditions such as asthma and bronchitis.
Just walking while talking on his cellphone can leave him short of breath, Lockett said. "The [asthma] triggers here, without my medications, it would be terrible."
California has cleaned up its diesel fleet significantly in recent years by phasing out older trucks and requiring operators to install the latest pollution-control equipment. But local air district officials and environmental advocates say more needs to be done and that the emissions goal should be close to zero.
Efforts to get there are stalled, they say, in part because of a provision in the $52 billion road improvement law signed in April by Gov. Jerry Brown. That provision exempts most diesel trucks on the road from future emissions reduction requirements for many years.
Regulators and environmentalists warn that, without further reductions in emissions, many residents who live near major truck routes or the port remain at high risk of cancer, heart problems, asthma and other lung diseases, especially children and seniors.
Asthma is a critical problem in Oakland for these two groups. Among other indicators, the rate of emergency room visits for asthma among seniors (age 65 and older) in East Oakland, where Lockett lives, is nearly three times higher than it is statewide, and the rate in West Oakland is nearly two times higher, according to state and county data.
Similarly, children in these neighborhoods go to the emergency room for asthma at more than double the rate of their peers statewide, according to 2016 data. In the heart of West Oakland, near the port, nearly 21 percent of children have been diagnosed with asthma, according to 2014 data from the California Health Interview Survey. That's well above the statewide average of 15 percent.
A mobile asthma clinic called a Breathmobile regularly parks at elementary schools near the port, and Darryl Carter makes good use of it for son Austin, 13. During a recent visit, he recalled a terrifying attack eight years ago that sent Austin to the hospital. Since then, the boy's been back to the hospital three or four times — not ideal, but the Breathmobile visits have made a difference.
Asthma has multiple causes and triggers, including poor housing conditions, a family history of the disease, certain weather conditions and exposure to cigarette smoke. Poverty, lack of access to health care and little knowledge of preventive care all can contribute to high rates of emergency visits, said Dr. Washington Burns, administrative director of the Breathmobile in Northern California.
However, "there's often more asthma around corridors with trucks and cars than in areas where there aren't," Washington said.
Diesel trucks account for 2 percent of vehicles but emit 30 percent of key smog-forming nitrogen oxides and 65 percent of the soot attributable to motor vehicles, according to the state Air Resources Board (ARB).
A 'Dirty Deal'?
In 2015, the Oakland City Council began diverting trucks from streets with homes, schools or senior centers. But some community activists say enforcement of these local ordinances has not been strong enough.
The provision in the state's new law exempts all but the oldest or highest-mileage trucks from any new emission reduction rules the state might impose. The exemption lasts 18 years from the time they meet current emissions standards or until they have traveled 800,000 miles.
It's unclear exactly how the exemption will affect local air districts and ports that want to cut emissions further. Environmentalists say these agencies may face resistance and risk being sued by the trucking industry if they forge ahead with more aggressive plans.
Critics say the governor agreed to the last-minute exemption to gain the trucking industry's support for higher diesel and gas taxes that, along with vehicle fees, are expected to raise $5.2 billion annually over 10 years to repair roads and bridges and to expand public transit.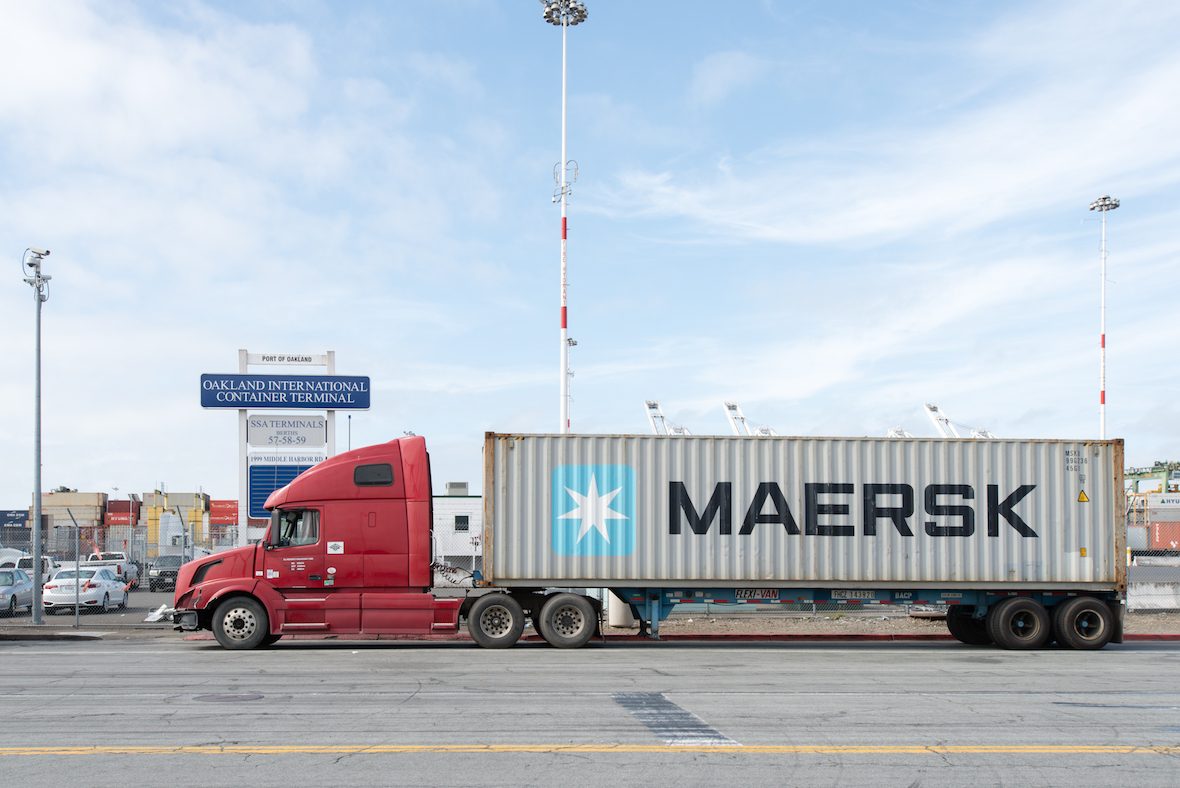 Bill Magavern, policy director for the Sacramento-based Coalition for Clean Air, said improving infrastructure is laudable but should not come at the cost of clean air.
"There's a lot to like in that bill, and we hated to oppose it," but there was a "dirty deal" thrown in at the last minute, Magavern said.
Gov. Brown's office referred questions on the truckers' amendment to the ARB, the state's clean-air agency.
The ARB said it can provide incentives to further reduce emissions without imposing additional requirements. And the new law, it said, will strengthen enforcement of existing rules.
Under the law, "truck operators can be denied [Department of Motor Vehicles] registration if they're not meeting the current rules," board spokesman David Clegern said. "Diesel pollution will be reduced by bringing 300,000 more trucks into compliance."
Local air managers in Southern California say greater enforcement of current rules is important, but it won't sufficiently accelerate turnover of the truck fleet. And that's crucial to helping Southern California meet federal clean-air standards, said Philip Fine, deputy executive officer of planning and rule development with the South Coast Air Quality Management District.
The problem for local air districts and ports is that when it comes to directly regulating mobile sources of pollution like diesel trucks, the state is the boss. It approves local district plans, and the local districts more or less oversee the ports. So the most effective way to reduce trucker emissions is to set stringent policy at the state level, as California has aggressively done in the past.
Emissions Way Down
But truckers say the state has imposed enough requirements. Chris Shimoda, vice president of government affairs for the California Trucking Association, said diesel emissions from trucks in California ports have fallen dramatically in recent years.
"This is attributable to the current $1 billion annually being invested by truckers in the cleanest available technology throughout the state," Shimoda said.
He also said that being exempted from any future state emissions-reduction requirements reassures the trucking industry that it will recoup the investment it is making in new engines to meet current state standards.
Under existing state rules, owners of heavy-duty trucks must have 2010 or newer-model engines by 2023.
Those rules have dramatically improved air quality. A study by the Bay Area Air Quality Management District, among others, found that from 2009 to 2013 emissions of black carbon from trucks at the Port of Oakland dropped by 76 percent and nitrogen oxides by 53 percent.
Critics: More Progress Needed
Still, ports throughout the state rely mostly on diesel to power vessels, yard equipment, trains and trucks. Ports in Southern California remain the single-largest fixed source of smog-forming pollution in the region. And the Port of Oakland is the largest fixed emitter of diesel pollution in the Bay Area, local air managers say.
That's why local districts were alarmed by the governor's concession to the trucking industry, said Tom Addison, legislative and policy adviser for the Bay Area air district.
It "gives the trucking industry a get-out-of-jail-free card," said David Pettit, senior attorney with the Natural Resources Defense Council. "It bars any kind of state regulations that might require truckers to move to a different kind of truck — natural gas-powered, electric or hydrogen fuels — when those become available in the market."
Last month, the mayors of Los Angeles and Long Beach set ambitious goals for the ports to transition to zero-emission truck and yard equipment over the next 20 years. The mayors affirmed that the ports' 2017 clean-air blueprint, which is expected to be released Wednesday, will include further emissions reductions from ships and the development of a zero-emissions truck pilot program.
But the new state law calls into question whether those plans — and others in coming years — will be enforceable.
If the ports in Southern California announced that in five years they're going to have an all zero-emissions fleet, Pettit said, "they'd be sued [by the trucking association] in a heartbeat."
CORRECTION: This story was updated on July 18 to correct the title of Philip Fine, who is deputy executive officer of planning and rule development at the South Coast Air Quality Management District.  Also corrected is the national ranking of the Port of Oakland as described in one of the picture captions. It is the nation's seventh largest seaport.
This story was produced by Kaiser Health News, which publishes California Healthline, an editorially independent service of the California Health Care Foundation.