BELL, Calif. — The towns of Bell and Cudahy in southeast Los Angeles County are best known for corruption scandals that enraged and mobilized their residents.
But to California health officials, the small, working class cities have a much more important distinction: They have the highest number of people that could benefit from the state's insurance marketplace.
More than 60,000 people, or about 60 percent of the residents, in the zip code encompassing Bell, Cudahy and Bell Gardens are eligible for financial help buying policies through the Covered California marketplace, according to the state's projections.
Getting them covered will be a big test of the state's ability to enroll the uninsured. Few people have been trained to help consumers enroll in person, and the Covered California website, while far less troubled than the federal website, has had its share of problems. On top of that, the scandals, which included bribery, extortion and misappropriation of public funds, have fueled distrust in government, residents and advocates said.
"We are coming out of the biggest corruption in southeast L.A. County," said Luis Garcia, a community advocate and construction manager in Cudahy. "If you don't have trust in the government, I don't see [enrollment] working so well."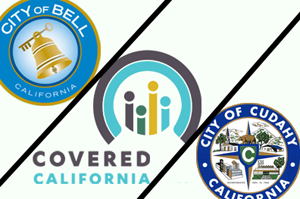 A bigger problem here, advocates say, is that there are still not enough people trained to help people enroll in person. Covered California, the state's marketplace, announced that 2,047 people have been certified as enrollment counselors. Another 4,047 are still going through the process, and that is nowhere close to the goal of 16,000. There are also 7,700 insurance agents certified to do enrollment, and another 11,085 in process.   
By the end of next year, the state hopes to sign up 1.2 million people in subsidized plans and 1 million in Medi-Cal, according to Covered California.
Local residents also said they have been reluctant to enroll because of all the recent news – on both English and Spanish-language media — about Obamacare problems. Those issues have led to widespread criticism and accusations that the federal government was ill-prepared for its launch. Some consumers have had trouble logging on to California's website and it has been taken down several times for upgrades. There are also long waits for people who seek help through the telephone. And Californians are hearing about the federal website's difficulties, adding to their confusion.
But Covered California external affairs director David Panush said that people understand that the health law is in a different theater than local politics, and he doesn't expect the cities' problems to impact enrollment.
"This is a national policy that goes well beyond what happens within the borders of the cities and people know that," he said.
The communities in southeast Los Angeles have reason to distrust government, so it's even more important that there are enough trained enrollment counselors and that the effort doesn't solely rely on officials, said Daniel Zingale, senior vice president at The California Endowment. "Covered California has to make it simpler to become certified," he said. "You are going to need warm bodies on the ground to enroll people."
Covered California staff members acknowledge the delays in getting people trained and certified and said at a recent board meeting they are trying to speed up the process. Spokesman Santiago Lucero said they couldn't anticipate the length of time it would take to complete the training, testing and background checks for counselors. 
AltaMed health clinics opened a special freestanding enrollment center in Commerce to sign up people throughout the southeast cities. Several employees completed training but weeks into enrollment, they still had not yet received final approval by Covered California. One morning, Juventino Salgado, 56, came in with a letter saying that he earned too much to qualify for Medi-Cal. Salgado had lost his job and coverage after getting injured last year and wanted to know if he could get inexpensive insurance through Obamacare.
A representative told Salgado that he may be eligible for discounted insurance through Covered California but that they couldn't help him yet. She promised to call soon and to help walk him through an application. Salgado, who has knee and back problems, said he doesn't know how to use a computer so he would return when they were ready. 
Juana Rodriguez, a community relations manager with AltaMed, said she was frustrated by the delay. Now, about 30 AltaMed staff members are certified to do enrollment and more than 100 are still waiting for certification. The patients are depending on them to explain the enrollment information, which is difficult to follow, Rodriguez said. "We need to simplify it for them," she said.  
Rene Medina, an insurance agent in Cudahy who became certified in mid-October to enroll consumers, said residents in his community are typically not computer savvy and may not have home computers or even email addresses, he said. The process of enrolling for health insurance is intimidating, Medina said, and many of his clients will need handholding.
Ninety-five percent of the people living in the 90201 zip code are Latino and the median household income is $38,500, according to the U.S. Census. About 40 percent have less than a ninth-grade education. Of the Spanish-speakers, half don't speak English well.
Along one of Bell's main streets, signs were written in English and Spanish signs at bakeries, hair salons and liquor stores.  It was a weekday afternoon and parents were walking children home from school.
One of those parents, Alma Gonzalez, 48, said her youngest two children are covered by Medi-Cal but she, her husband and their two older children are all uninsured. Her husband works at a health insurance company, and she works part-time at a 99 Cents Only store. Gonzalez and her husband were told they earned too much money to qualify for Medi-Cal but she said they cannot afford coverage on their own. "If we buy insurance, there isn't enough to eat," she said in Spanish.
Gonzalez said she has heard about the health law and knows she has to get insurance, but she hasn't felt comfortable asking for assistance. 
Inside Fantasy Boutique Designs, 21-year-old saleswoman Stephanie Navarro helped customers shop for frilly girls' dresses and miniature boys' suits. Navarro, who used to be covered through her father, said she lost that insurance when he got laid off.  After learning about Obamacare from her mom, Navarro said she thought about looking for more details but decided to wait because of news reports about problems.  
In Cudahy, Jorge Ramirez was serving the afternoon crowd of teenagers at a convenience store. Ramirez doesn't have insurance and said he rarely goes to the doctor, relying instead on herbal medications if he gets sick. Ramirez said he doesn't want to spend what little money he earns on insurance and he doesn't think the government should require him to buy a policy. "How can you push people who have no money to get insurance?" he said.
Ramirez didn't know about possible financial subsidies, hadn't considered looking online for more information and didn't trust asking local government officials for help.  
"I don't know how it's gonna work," he said. "I have to wait for information."