When Frances Barnes had a stroke in August 2008, she was taken by ambulance to Howard University Hospital. The 80-year-old grandmother was there for about two weeks when she began complaining about pain in her legs. Her daughter Althea Hart pulled back her mother's blankets and noticed a strange odor.
Hart thought the smell was coming from the compression stockings wrapped around Barnes's legs to help with circulation, so she took them off. She found that her mother's left foot had turned black.
Hospital staff had failed to follow physician orders, which required taking off the compression stockings after each shift for at least 30 minutes, according to a DC Department of Health investigation.
"We called a nurse right away, and they tried to heal her infection," says Patricia Moss, another of Barnes's daughters. "But they couldn't."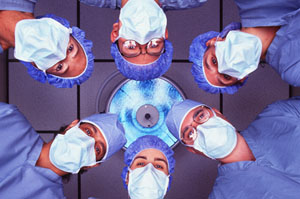 Barnes's family moved her to Providence Hospital in Northeast DC, where she had to have her lower leg amputated. Barnes moved to a nursing home, where she continued to get infections; she died at Providence in February 2009, five months after her foot turned black. Barnes left behind eight children, 15 grandchildren, and 16 great-grandchildren. Moss filed a lawsuit against Howard University Hospital. The case was settled last year, but details weren't made public and the hospital denied liability.
"I miss her every day," Moss says. "She was doing okay until she went to Howard. She had no ulcers and no sores. Her feet were okay." If it weren't for the infection, Moss says, her mother might still be alive.
As sad as Barnes's story is, it's far from an isolated event. Alarms have been sounding for more than a decade, ever since the Institute of Medicine — the health arm of the National Academy of Sciences — estimated that as many as 100,000 people a year were dying in US hospitals due to preventable errors.
Despite those warnings, the situation has gotten worse. In 2010, the federal government estimated that faulty medical care contributed to the death of about 15,000 Medicare patients per month. By these meas­ures, faulty hospital care is one of the leading causes of death, behind heart disease and cancer.
Why haven't hospitals made more progress on patient safety? The reasons are multiple and complex, but they boil down to the fact that hospitals are hierarchical organizations resistant to change, they haven't done enough to create environments in which patient safety is a priority, and they've been reluctant to share patient-safety data with the public.
Even getting full compliance on basic safety standards, such as washing hands, has proved elusive because hospitals are busy, high-stress places full of distractions.
"We are humans and are destined to make mistakes," says Nancy Foster, vice president of quality and patient-safety policy at the 5,000-member American Hospital Association. "The question in health care is: Can we design processes and have them in place so when an individual makes a natural mistake, that mistake doesn't result in harm to patients?"
How Safe Are Our Hospitals?
The Centers for Medicare and Medicaid Services and the state of Maryland have rated patient safety at hospitals in the District of Columbia, Maryland and Virginia.
I spoke with a dozen hospitals in the region to ask what they're doing to address patient safety. All are working on strategies—including using checklists to ensure that hospital employees consistently follow safety standards, ramping up pressure on employees to wash their hands, flattening hierarchies to improve communication between doctors and nurses, designing equipment to reduce errors, and digitizing patient records.
Five hospitals — Georgetown, Holy Cross, Inova Fairfax, Shady Grove Adventist, and Suburban — opened their doors to me to provide a fuller picture of what they're doing regarding patient safety. All five say they've improved but have more to do.
On September 22, 2010, Nadege Neim, a 28-year-old married medical student, was admitted to Baltimore's St. Agnes Hospital to have a cyst on her left ovary removed. Neim's doctor removed her right ovary and fallopian tube, according to a lawsuit she filed.
The case highlights a persistent problem: A small number of surgeries are conducted on the wrong body part. Neim didn't know about her doctor's alleged error until a month later, when she went to Howard County General Hospital's emergency room complaining about right pelvic pain and learned that her right ovary had been removed and that the cyst on her left ovary remained. Neim is now at risk for infertility.
"I felt so violated," she said in a statement. "I can't believe my doctor did this to my family and my future."
The doctor, Maureen Muoneke, has filed a response to the suit denying liability, according to the plaintiff's attorney.
There are safety measures in place designed to prevent such mistakes. Since 2004, the Joint Commission, the organization that accredits American hospitals, began requiring doctors and nurses to follow a short checklist called the "universal protocol" as a way to eliminate wrong-site surgeries. Before an operation, hospital staff are supposed to verify and mark the part of the body to be operated on, and surgical staff are supposed to take a time-out right before the surgery to ensure they're operating on the correct part of the body.
Yet wrong-site surgeries keep happening—as often as 40 times a week in US hospitals and clinics, according to the Joint Commission. Patient-safety experts aren't sure why, but they think it's related to increased time pressures in health care as well as doctors' tendency to underestimate their vulnerability to error.
"There is this conspiracy of exceptionalism" in the culture of health care, says Carol Haraden of the Institute for Healthcare Improvement, a Cambridge, Massachusetts–based nonprofit.
Because of the hierarchical nature of hospitals, in which the senior doctor is the leader, there often hasn't been a culture of collaboration and teamwork, Haraden says. That's been an obstacle to improving patient safety, because while doctors are expected to be confident about their decisions, they also have to accept that oversights can happen and that sometimes a nurse or another colleague might know better.
Haraden, who travels the world speaking to doctors and hospitals about changing their culture, says the only way to get people to change is by showing them data that underscores how standards and teamwork reduce errors. Then leaders of hospitals have to make it clear that they expect their staff to follow the protocols, and hospitals need to report information about errors so the public can compare their safety records.
"This is a very, very new set of learning and behavior expectations that haven't been true in health care," Haraden says. "It takes time. We have to have this conversation over and over again with every person."
Learning 'Dumb' Checklists
Some of the data Haraden uses in her talks comes from Atul Gawande's 2009 book, The Checklist Manifesto: How to Get Things Right, in which Gawande, a surgeon at Brigham and Women's Hospital in Boston, ponders his own fallibility and explores how to help others in health care.
What You Can Do
Here's what Consumer Reports and Dr. Peter Pronovost, senior vice president for patient safety and quality at Johns Hopkins Medicine, say patients can do to keep themselves safe when they go to a hospital.
Do your homework. Go to the Web sites Hospital Compare and the Joint Commission and look up hospitals in your Zip code. Based on that information, ask your doctor which ones they trust.
Ask a malpractice lawyer which hospitals are safe.
Find out if the procedure you're having is one that both your physician and the hospital do often. "You don't want a doctor or hospital that dabbles in your procedure," Pronovost says.
Ask if the physician and hospital use a checklist.
When you go to the hospital, have a list of all your medications and medical problems and give it to the doctors and nurses caring for you.
Ask if physicians and nurses have washed their hands before they touch you. You may feel uncomfortable asking this, but it's for your own safety.
If you have an invasive device in your body, such as a catheter, either you or a family member or a friend should ask every day if you need to have it in your body and when it can be taken out.
Bring a friend or family member with you to be your advocate, ask questions, and record the answers.
"Avoidable failures are common and persistent, not to mention demoralizing and frustrating," Gawande writes. "We need a different strategy for overcoming failure. And there is such a strategy—though it will seem almost ridiculous in its simplicity, maybe even crazy to those of us who have spent years carefully developing ever more advanced skills and technologies. It is a checklist."
To create his list, Gawande looked to the aviation industry, a high-risk sector that has become reliably safe in part because everyone uses checklists. The military began using aircraft checklists in the 1940s when the complexity of planes reached the point that pilots couldn't remember every step needed to fly the plane.
As Gawande describes it, the checklist included seemingly "dumb" things such as making sure brakes were released, doors and windows were shut, and instruments were set. But when something becomes habitual and mundane, it's easy to forget. And overlooking any of those steps could cause a plane to crash.
Today there are multiple checklists for each aspect of airplane operation, including what to do if something goes wrong, such as an engine failure during flight.
Aviation checklists also encourage discussion and spread power among those in charge, creating a sense of teamwork. Assisting pilots participate in checklists and are encouraged to question their commanding officers if they sense there's danger. The idea is that there's "wisdom in the group" over the individual, writes Gawande: "Man is fallible, but maybe men are less so."
Gawande took what he had learned from the aviation industry and worked on a checklist that covered mundane but essential tasks and fostered communication. He developed the list with other doctors through the World Health Organization, and the tool was deployed in eight hospitals worldwide in 2008. The results were telling. Hospitals that adopted his checklist reported a 36-percent drop in major surgical complications and a 47-percent decline in deaths, according to Gawande.
The hospitals reported that the list provided backup protection against lapses in memory due to fatigue or distractions. It also encouraged preoperative discussions, which came in handy when the unexpected occurred during surgery. "No one checklist could anticipate all the pitfalls," Gawande says, so just having hospital staff stop to talk through a case and its potential challenges reduced complications and deaths.
Relying On Lists, Not Memory
Dr. Michael Zenilman, regional director of surgery at Johns Hopkins Medicine in the National Capital Region, says physicians have resisted using checklists because "we believe we are different from the rest of the world." But Gawande's book has helped change minds.
Suburban Hospital began implementing a checklist in early 2011 just before Zenilman arrived in his job to align surgical care at Bethesda's Suburban, DC's Sibley, and Howard County General Hospital. All three belong to the Johns Hopkins Health System.
To demonstrate how a checklist is used, Zenilman invited me to watch a gallbladder surgery last August.
Suburban's checklist is modeled on the one Gawande developed with the WHO. It has three parts: one to be completed right before the patient is anesthetized, one right before the patient is opened, and one before the patient is wheeled out of the operating room. Each part provides moments for staff to stop and talk about potential problems.
The first part includes a confirmation of the patient's name, the type of procedure, whether the surgery site has been marked, and whether the anesthesiologist has any concerns. The second includes identification of the patient again and an introduction of everyone operating on the patient that day, plus ten other items such as what time an antibiotic was administered. The last part asks if there have been any equipment failures during the surgery, what tissue specimens have been taken during the operation, and whether all surgical equipment has been accounted for to ensure that nothing is left inside the patient. Each section is supposed to take about a minute to complete.
On the day of the surgery, each part of the checklist was encased in a plastic sheet and posted on a wall near the operating table. The circulating nurse that day, Megan Dins­more, called out each item on the list and then used a black marker to check them off.
"I did a checklist before, but it was by memory," Dinsmore said. "This is much easier."
But she left on a break about halfway through the surgery and was replaced by Jessica Moscati. At the end of the operation, the patient was wheeled out of the room, and no one had checked off the third part of the list on the wall.
When I asked her why, Moscati told me she had conducted the third part of the checklist orally — including the count of instruments used in the surgery. Zenilman said he wouldn't have been permitted to finish his surgery until the instruments were counted. When pressed on why they didn't physically complete the checklist, Moscati said: "We should have."
In a follow-up interview, Zenilman came to Moscati's defense. "What the checklist is doing is putting in writing a process of events that are already happening," he said. "You saw the third part is making sure the pathology report is sent off and making sure the count is right. Those things were done."
Hospitals that don't follow their own patient-safety protocols 100 percent of the time can't get to 100-percent safety, says Jeffrey Selberg, chief operating officer of the Institute for Healthcare Improvement, a nonprofit in Cambridge, Massachusetts. "If Suburban's process dictates that they document on the checklist, then they need to document on the checklist," Selberg says.
"What shouldn't be lost," he adds, "is that Suburban was willing to have you observe and you felt you could call them out and have a dialogue about it. That is great. I think it's terrific that the nurse said, 'We should have done the checklist.' That speaks well of them."
To get to 100-percent compliance, Selberg says, hospital staff have to feel free to talk about mistakes and what they learned from them.
Stopping Infections With A Marker
For a long time, many health-care providers believed it was inevitable that some small percentage of intensive-care patients would get infections after the insertion of a tube, catheter, or ventilator, often for multiple days, to keep them alive.
But Peter Pronovost, senior vice president for patient safety and quality at Johns Hopkins Medicine in Baltimore, proved them wrong. Dr. Pronovost began using a checklist at Johns Hopkins that led to a 90-percent drop in bloodstream infections in the hospital's intensive-care units and that in some cases got the infection rate to zero.
Pronovost's checklist has five items: wash hands; clean the patient's skin with antiseptic; put a sterile draping over the patient; wear a mask, hat, sterile gown, and gloves; and put a sterile dressing over the insertion site once the tube is in.
Gawande's The Checklist Manifesto details how Pronovost worked with hospitals in Michigan in a study published in 2006 on using a checklist in ICUs. The hospitals reported a 66-percent drop in infections, and many got their infection rates to zero.
Joanne Ondrush, a critical-care physician at Inova Fairfax Hospital, was inspired by Gawande's book and talked her colleagues into reading it. She then worked with doctors and nurses in the intensive-care unit to create a checklist in 2010 for Inova Fairfax's ICUs that's used when doctors and nurses talk about patients on rounds.
"The biggest resistance to this was that it's more work for someone who is already stressed and busy," Dr. Ondrush says. "But when people saw that it could be implemented with minimal change in the workflow, it was adopted in a relatively short period of time."
Inova's Medical Surgical ICU—one of nine full-time ICUs at the hospital—keeps track of its infections on a whiteboard in the staff lounge. The board is next to the refrigerator so that everyone tracks their progress. Each time a patient gets an infection, the doctors and nurses hold a "huddle" in which they discuss the cause. Then someone posts a brief explanation on the wall about how the infection occurred so everyone can learn from what happened.
In September, the Medical Surgical ICU showed that there had been six infections since the start of the year.
"Zero is always our goal," Ondrush says. "But zero isn't sustainable [forever] because we are dealing with sick people and there are going to be variables that are out of control. You can do every checklist and everything right and the patient is still going to develop an infection."
Questioning Their Superior
On an early August morning, 200 Georgetown Medical School students gather for coffee, bagels, and a talk on patient safety. Doctors haven't traditionally been trained to see patient safety as one of their priorities. That's changing.
Dr. Stephen Evans, chairman of surgery and the leader of patient safety at Georgetown University Hospital, moves to the lectern and begins with a question.
"When patients get admitted to the hospital, what is it that a patient wants?" He calls on a student at the table in front him, who answers: "To get cured?"
"No," Evans says.
The student tries again. "To feel safe?"
Evans nods. "They want to feel safe first," he says. "After they feel safe, they want to be cured of what ails them."
Evans stresses that every medical student and soon-to-be doctor plays a key role in keeping a patient safe.
"So what does that mean? If you are in a room and the attending physician walks in and doesn't wash his hands, you — not anyone else, you — can flatten the hierarchy. You say, 'Excuse me, Dr. Evans. You forgot to wash your hands going into the room. Would you mind? I think it's important for patient safety.'"
The room erupts in nervous laughter, as it does every time Evans gives this lecture. The reason, he says, is that he's telling students to question their superior—something that hasn't historically been part of med-school curriculums.
"I'm not laughing," Evans tells the students. "You have to be in a position where you can tap someone on the shoulder regardless of their level, age, or hierarchy so the best care is delivered to the patient."
The Association of American Medical Colleges, the group that speaks for the nation's medical schools, is encouraging schools to emphasize patient safety and to push new physicians to think in teams. Doctors are also being trained in the importance of washing their hands, something that seems obvious but wasn't part of med-school discussions in the past.
"Previously it was just how to treat a patient and how to take out a gallbladder," Evans says. "Now we have tons of data showing how many near misses and mistakes and errors occur, and so we try to make that painfully transparent to everyone."
Preventing 'Near Misses'
Examining the underlying factors in "near misses" and errors — known in engineering as a "root cause" analysis—is also a big change in health care. Terry Fairbanks, associate professor of emergency medicine at Georgetown and a patient-safety expert, says that among the reasons airlines are safe is that they track near misses and errors and conduct root-cause analyses.
"In the history of health care, what do we do if anyone makes a mistake?" says Dr. Fairbanks, also director of the MedStar National Center for Human Factors Engineering in Healthcare, a unit within MedStar's hospital system that focuses on patient safety. (MedStar owns Georgetown Hospital and eight others.) "We'd retrain them. We'd focus on the individual instead of recognizing that there are certain things that people will make errors with" and redesign the system accordingly.
Georgetown encourages staff to report instances in which actions nearly caused harm or caused only minor harm. These reports give an indication of where the hospital needs to bolster its processes to prevent a serious injury.
"In engineering, there are 600 misses for every adverse event," says Fairbanks. "You can build a system to prevent those near misses from turning into an adverse event, but you have to know what those near misses are."
Sometimes what's found in analyzing an injury is that hospital staff aren't following even the most basic safety precautions. Infections are known to spread through poor hand washing, for example, but hospitals continue to struggle to get their staff to wash their hands as often as they're supposed to. An estimated 1.7 million patients a year get infections in hospitals and 99,000 die from them, according to the Centers for Disease Control and Prevention.
At Shady Grove Adventist Hospital, the staff was 80 percent compliant with hand-washing rules and couldn't get that number higher until the hospital required employees to sign a letter committing to washing their hands, says Skip Margot, Shady Grove's vice president of patient-care services. The letter was then put into staff job-performance files. Compliance rose to almost 100 percent, Margot says. (Shady Grove knows its compliance rate because it periodically secretly observes staff on hand washing.)
At Shady Grove and at Georgetown, sinks and hand sanitizers have been positioned to take into account doctors' and nurses' workflows. Hand sanitizers are installed on walls near the entrance of rooms, for example. "When [doctors and nurses] don't wash their hands, it isn't a conscious decision," Fairbanks says. "You get interrupted by a nurse with a question just as you were about to wash your hands."
Georgetown says its hand-washing rate is 90 percent. Evans, the Georgetown patient-safety leader, says that as of mid-2011, there was a big decrease in the hospital's infection rate and other complications, but he declines to give specific numbers.
Digitzing Records For Safety
Another way hospitals are improving safety is by digitizing patient records. In September, the Joint Commission listed Silver Spring's Holy Cross as a top-performing hospital, one of only 405 in the country to receive that ranking. No other hospital in the region made the list. Holy Cross was judged on how well it followed recommended protocols for treating children's asthma, heart attack, heart failure, pneumonia, and surgical infection.
Dr. Yancy Phillips, Holy Cross's head of quality and care management, credits the hospital's investment in electronic records. Every patient admitted now has a digital record, and seven full-time employees comb through those records to determine if doctors and nurses are following safety protocols.
In mid-2010, just 15 percent of the nation's acute-care hospitals had electronic health records, according to the American Hospital Association. That number is expected to grow, as the government has allocated billions of dollars to help hospitals and physicians invest in electronic records. Georgetown and Inova Fairfax are both in various stages of rolling out electronic-records systems, which they hope to complete in 2012. Suburban and Shady Grove installed systems in 2011.
Holy Cross, a member of Trinity Health, spent about $6 million on its electronic-records system, which went live in September 2008.
Lisa Shah, a Holy Cross doctor, describes the system as an "in your face" checklist that can be helpful when a doctor is dealing with fatigue and has multiple tasks to perform. The computer guides doctors through steps to follow, so Dr. Shah doesn't have to rely on her memory.
The 2010 health-care-reform law is prodding hospitals to move faster on all of these patient-safety efforts. Beginning in October, hospitals will be reimbursed for how well they take care of Medicare patients. If a hospital doesn't show improvement on patient safety, it could lose lots of Medicare money.
The law also provides for about $1 billion to help hospitals with safety efforts and requires hospitals to provide more patient-safety data to the public.
The current lack of transparency makes it hard for people to figure out which of their local hospitals is safest. The District of Columbia reports on injuries occurring in the city's hospitals, for example, but doesn't say at which hospital the problems occurred. The DC Department of Health reported that between 2009 and 2010 there were at least 310 serious injuries in the city's hospitals, down from 706 in 2008. But those figures may not include all injuries, because it's not clear whether all hospitals reported all mistakes, as doing so is voluntary. In Maryland, there were about 56,000 preventable complications involving hospital patients between July 2010 and July 2011. Virginia doesn't detail medical errors.
The only comprehensive source of data on hospital safety is the Medicare Hospital Compare Web site, and that information lags by about a year and mostly captures care of those age 65 and older.
In October, Hospital Compare began reporting hospital infection data for Medicare patients. In January, the site began reporting on central-line infections in the broader population. More data on other types of infections will be available in 2013.
Anne-Marie Audet, vice president of health-system quality and efficiency at the nonprofit Commonwealth Fund, says the more patient-safety information is public, the better it is for everyone because it will prod hospitals to compete with one another on safety.
"Hospitals are doing a lot of harm by omission," says Paul Levy, former CEO of Beth Israel Deaconess Medical Center in Boston and author of the blog Not Running a Hospital. "Measure your data and post it for the world to see. Hospitals are worried the public won't properly judge their performance, but I think that people will say, 'I'd rather go to a hospital that is trying hard rather than one that won't publish their numbers.'"
This article was produced by Kaiser Health News with support from The SCAN Foundation.