Updated at 2:40 p.m. on June 28.
Hospitals were the businesses with the most to lose from a negative Supreme Court opinion on the 2010 health law. Sure, insurers would have lost millions of potential customers. But if the act were struck down, they would have also been freed from restrictions on their profits, leading Wall Street analysts to predict mixed results for them in the event that the law failed.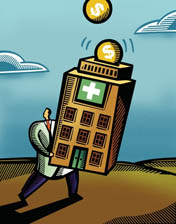 For hospitals, on the other hand, such an outcome would have represented almost pure pain. While the act puts pressure on future Medicare payments, and the court gave states the choice to opt out of Medicaid expansion, analysts still anticipate substantial new revenue streams for hospitals via Medicaid and through the private market.
A decision to strike down the act would have maintained hospitals' responsibility of caring for the uninsured while removing the means for patients to gain coverage, resulting in a severe financial pinch, analysts said. So stocks of for-profit hospital companies soared on Wall Street today even as the overall market fell.
HCA Holdings, for example, which owns more than 100 hospitals, was up 10 percent in early afternoon trading. Competitors Tenet Healthcare and Community Health Systems were also surging.
Most health insurance stocks, on the other hand, fell. UnitedHealth Group, which offers a variety of health services in addition to insurance, was down less than 1 percent. WellPoint was down 5 percent.
The Supreme Court ruling would have "minimal earnings impact" on insurers, Bernstein Research analyst Ana Gupte wrote in a note to clients this morning. Because the court ruled that penalties for not buying coverage are a tax, she said, the "mandate" to buy insurance might be more enforceable — and hence beneficial for insurers.