Amanda Hite says she felt "really healthy" when she applied recently for health insurance. But Anthem Blue Cross and Blue Shield denied her, because she had seen a chiropractor a few months earlier for a sore back and later had visited an emergency room because of back pain.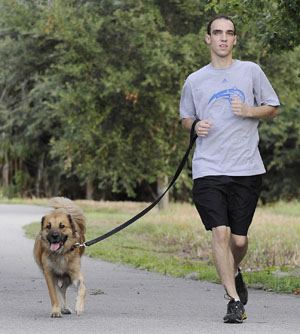 "I was surprised and let down," said Hite, 34, of Lexington, Ky., who didn't think her periodic back pain would be enough to keep her from buying health insurance.
Hite's case isn't unusual. Many of the plans offered by Anthem Blue Cross in Kentucky reject about one in five applicants, according to data provided by insurers to the federal Department of Health and Human Services. Rival insurers in the state have even higher denial rates: Humana rejects 26 to 39 percent of applications in Kentucky, while UnitedHealthcare denies 38 to 43 percent.
Citing its own 2009 study, America's Health Insurance Plans, an industry trade group, says 87 percent of people who apply nationally for individual coverage are offered a policy. That figure, however, includes people who are turned down for one policy but offered another that may cost more or have fewer benefits.
The federal website contains denial rates in all 50 states, the District of Columbia and U.S. territories, and is updated periodically. The most current information is for the first three months of 2011. The data show that denial rates routinely exceed 20 percent and often are much higher, according to a KHN review of 20 of the most populous states and the District of Columbia. The data reflect applications that are turned down for any reason.
The information provides fresh evidence of the challenges facing people buying individual health insurance. It also shows the likelihood of whether consumers are approved for a policy depends on which state they live in and the insurer they choose.
Denial rates can vary widely within individual states. In Georgia, for example, Aetna's denial rate is 15 percent compared with 47percent for Kaiser Permanente and 67 percent for John Alden Life Insurance. (KHN is not affiliated with Kaiser Permanente.)
Los Angeles, Calif.
Insurer
No. of plans
Denial rate
Aetna
11
13%
Anthem Blue Cross
35
3-20%
Blue Cross of Calif.
8
7-20%
Calif. Blue Shield
23
20-36%
Cigna
8
28-29%
Celtic
34
28-42%
Healthnet
3
16-28%
John Alden
3
56%
Kaiser Permanente
14
21-23%
Pacificare
12
40-71%
Physicians Services
3
20-43%
Time
3
46%
 
Miami, Fla.
Insurer
No. of plans
Denial rate
Aetna
12
15-23%
Av-Med
102
4-10%
Blue Cross and Blue Shield
31
11-13%
Cigna
15
20%
Celtic
38
29-47%
Coventry
20
10-25%
John Alden
3
54%
Time
3
52%
 
Atlanta, Ga.
Insurer
No. of plans
Denial rate
Aetna
11
15%
Blue Cross and BlueShield
91
10-23%
Cigna
7
32-36%
Celtic
31
36-39%
Consumers Life Insurance
33
10%
Coventry
22
13-15%
Humana
114
14-37%
John Alden
3
67%
Kaiser Permanete
10
47%
Time Insurance
3
51%
UnitedHealthcare
47
18-26%
 
Chicago, Ill.
Insurer
No. of plans
Denial rate
Aetna
9
21%
Blue Cross and Blue Shield
110
11-15%
Celtic
38
24-37%
Coventry Personal Care
16
29%
John Alden
3
61%
Time
3
52%
United Security Life and Health
8
29%
 
Baltimore, Md.
Insurer
No. of plans
Denial rate
Aetna
6
24%
Care First (BC&BS)
36
22-47%
Coventry
22
0-43 %
John Alden
3
67%
Kaiser Permanente
10
32%
Time Insurance
3
44%
 
Philadelphia, Pa.
Insurer
No. of plans
Denial rate
Aetna
16
16-18%
Celtic
34
28-46%
HealthAmerica
20
25%
Independence Blue Cross
17
0-26%
John Alden
3
57%
Time Insurance
3
49%
 
Dallas, Texas
Insurer
No. of plans
Denial rate
Aetna
10
17%
Blue Cross and Blue Shield
31
10-16%
Cigna
14
21-29%
Celtic
38
24-35%
Humana
36
15-23%
John Alden
3
61%
Time Insurance
3
48%
Source: Health and Human Services website www.healthcare.gov.
Also, the same insurer can have vastly different denial rates in different states. For example, Kaiser Permanente denied 32 percent of applications in Maryland but 17 percent in Colorado.
James Larreta-Moylan, director of individual and family plans for Oakland-based Kaiser Permanente, said the denial rates vary because of the different types of plans sold, and the age and health conditions of applicants in different markets. He said denial rates can be higher in some markets where sicker patients apply for plans with richer benefits. Medical underwriting, or reviewing an applicant's health status, "is an unfortunate reality of today's market," he said.
Mike Cantone, 27, of Orlando, was denied a health insurance policy last year by UnitedHealthcare, which considered him a risk because a doctor used a monitor to test his heart for a few days in 2007. No problems were detected, he said. "I was shocked and frustrated," said Cantone, a political director for a community organization. He is still uninsured.
'Denial' Definitions Differ
Two companies consistently had the highest denial rates — John Alden Life Insurance and Time Insurance, both owned by Milwaukee-based Assurant Health. In nearly every market surveyed, their denial rates were at least twice the rate of competing insurers. For example, in Tennessee, John Alden turned down 70 percent of applicants and Time, one of the biggest individual insurers in the country, rejected 53 percent.
Assurant spokeswoman Heather McAvoy said her company offers alternative plans when applicants are rejected due to health status. These can include policies that require consumers to pay extra to cover a pre-existing medical condition. "Unfortunately, when consumers accept the alternative coverage — and are, in fact, insured with Assurant Health — they are classified as a 'denial' under the HHS criteria," she said.
AHIP, the trade group, says the federal data on coverage denials are misleading because they do not include people rejected for one plan but offered another. The data also include denials involving applicants who don't live in the plan's coverage area.
The Department of Health and Human Services acknowledged AHIP's arguments but said it was important for the data to reflect when people can't get the specific policies they apply for. The department said most of the denials are the result of medical underwriting.
Health Law Offers Help

The difficulty of buying individual coverage was a big reason behind the 2010 federal health overhaul, which will ban insurers starting in 2014 from denying individual policies based on health status.
In the past, most consumers haven't been able to look up insurers' denial rates before sending in a check to apply for coverage. Maryland is the only state that requires insurers to report information on denial rates.
But as part of the federal health law, HHS last November started posting the coverage-denial rates, which can be searched by ZIP code at www.healthcare.gov.
Using the data from the website, a Government Accountability Office study of 459 insurers published earlier this year found an average of 19 percent of applicants nationally were denied coverage. But the study showed a wide range of denial rates. A quarter of insurers had denial rates of 15 percent or below and a quarter had rates of 40 percent or higher.
A House Energy and Commerce Committee investigation into four large for-profit insurers last year found that the denial rates have steadily increased from 11.9 percent in 2007 to 15.3 percent in 2009. The companies reviewed were Aetna, Humana, UnitedHealthcare and WellPoint.
The denial rates are an important tool for helping consumers select an insurer, said Deborah Chollet, a senior fellow with Mathematica, a non-partisan think tank. That's because the application process can take a month or more, and carriers typically require the first month's premium with the application.
Sara Collins, vice president of the nonpartisan Commonwealth Fund, said the denial data underscore the need for the industry changes that will occur in 2014. "It's not surprising that denial rates are high, because insurers have an incentive to only enroll the healthy risks," she said. "If a person comes in with a health problem that will potentially cost (the insurer) money, they are probably not going to cover them."