Medicare on Thursday disclosed bonuses and penalties for nearly 3,000 hospitals as it ties almost $1 billion in payments to the quality of care provided to patients.
The revised payments, which will begin in January, mark the federal government's most extensive effort yet to hold hospitals financially accountable for what happens to patients. In what amounts to a nationwide competition, Medicare compared hospitals on how faithfully they followed rudimentary standards of care and how patients rated their experiences.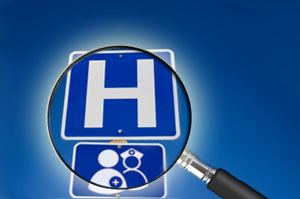 In many regions, the hospitals that did the best are not the ones with the most outsized reputations, but regional and community hospitals, according to government records. New York-Presbyterian in Manhattan and Massachusetts General Hospital in Boston, both dominant hospitals in their cities, will have their payments reduced. Other leading names in the hospital industry, including the Cleveland Clinic and Intermountain Medical Center in Utah, will receive bonuses, although not the largest in their regions.
In all, Medicare is rewarding 1,557 hospitals with more money and reducing payments to 1,427 others, according to a Kaiser Health News analysis of records released by the Centers for Medicare & Medicaid Services. The maximum amount any hospital could gain or lose was 1 percent of its regular Medicare payments.
For nearly two-thirds of the hospitals, the changes are less than a quarter of a percent. In many cases, it's little more than a rounding error on their bottom lines: Cedars-Sinai Medical Center in Los Angeles will have its payments reduced by 0.05 percent. Still, for hospitals with lots of Medicare patients, hundreds of thousands of dollars are at stake.
The biggest bonus this year is going to Treasure Valley Hospital, a physician-owned, 10-bed hospital in Boise, Idaho, that is getting a 0.83 percent increase in payment for each Medicare patient, the records show. Auburn Community Hospital, a nonprofit near Syracuse in upstate New York, is facing the biggest cut, losing 0.9 percent of every payment.
On average, hospitals in Maine, Nebraska, South Dakota, Utah and South Carolina will fare the best, while hospitals in the District of Columbia, Connecticut, New York, Wyoming and Delaware come out among the worst, the data shows.
Results for hospitals within the same system often varied. For instance, in Rochester, Minn., the Mayo Clinic's Methodist Hospital will be getting a bonus. But Mayo's flagship St. Mary's Hospital, also in Rochester, will be losing money. Dr. Michael Rock, an orthopedic surgeon at the Mayo Clinic, said that Medicare's scoring system tends to favor hospitals with patients like those at Methodist, which primarily does elective surgeries, over hospitals with lots of trauma and emergency cases, which St. Mary's handles.
Created By The Health Law
The payment change was created by the federal health law and is known as the Hospital Value-Based Purchasing Program. It is part of the government's effort to shift away from paying hospitals and doctors based on the quantity of care they provide with no regard for how good a job they did.
"To me, it's the tip of the iceberg for where we are going," said Dr. Michael Henderson, chief of quality at the Cleveland Clinic. "We've been working on this for two or three years, and it really made us strive for excellent performance."
Dr. Raj Behal, senior patient safety officer at Rush University Medical Center in Chicago, which is getting a bonus, said the prospect of the financial incentives has not had a huge effect. "I wouldn't say we've changed our course radically. All of these things were already on our radar," he said. "These are nuts and bolts measures. All of us should be doing these things right. But is that enough?"
The program is one of several Medicare is launching to make hospitals and doctors accountable for quality and more careful stewards of public money. In October, Medicare also began reducing payments to 2,217 hospitals because too many of their patients ended up back in their care within a month. Medicare already gives bonuses to the private Medicare Advantage insurance plans that score well on quality metrics. In 2015, the health law calls for the government to begin a quality payment program for physician groups of 100 professionals or more, and that is to be expanded to all doctors by 2017.
The way the program works is that Medicare is reducing payments to all hospitals by 1 percent, estimated at $964 million. It then calculated a score on how much money each hospital deserved to get back based on the quality of its care. While every hospital is getting something back, almost half aren't recouping the 1 percent they forfeited and thus are net losers.
Seventy percent of the scores are based on how frequently hospitals followed 12 basic clinical standards of care, such as controlling heart surgery patients' blood sugar levels and giving them beta blockers to lower their blood pressure. The other 30 percent is determined by how well hospitals were rated by former patients in surveys asking about the communication and responsiveness of doctors and nurses and the cleanliness and quietness of their environment.
Medicare already publishes the scores for individual facilities on its Hospital Compare website. Hospitals were scored both on how well they performed compared to their peers from July 2011 through March 2012, and how much they improved over time.
Nicholas Genna, CEO of Treasure Valley Hospital in Idaho, recipient of the biggest bonus, credited close attention to patients, including a low nurse-to-patient ratio and handwritten thank-you notes to patients, along with the fact that the doctors own the hospital. "People answer the phone with a smile on their face," he said.
Thomas Filiak, the chief operating officer at Auburn Community Hospital in New York, which received the largest penalty, said executives have begun a number of initiatives to lower noise near patient hallways, including putting new wheels on squeaky food carts. "They sounded like Mack trucks going through the hallway," he said.
Only 39 percent of Auburn patients reported their rooms were always quiet, below the national average of 60 percent, according to Hospital Compare. Filiak also said the hospital has been improving the quality of the food, which a private survey company found was affecting patient satisfaction, and ramping up the overall performance by focusing teams of workers on the problems. Auburn's low scores included its rate of giving the right antibiotic to surgery patients, which did not occur 11 percent of the time.
"We know we started off at the bottom, but we are going to work our way to much more acceptable scores," Filiak said. The penalty will cost Auburn an estimated $100,000, he said, which the hospital's $85 million budget can absorb without having to take drastic measures like layoffs.
Impact Varies
The penalties are impacting some types of hospitals more than others, according to an analysis Thursday by Dr. Ashish Jha's research team at the Harvard School of Public Health. Bigger hospitals, teaching hospitals and hospitals with the most poor patients tended to do worse than smaller hospitals, hospitals that don't train residents and hospitals with a more affluent patient mix, the researchers found. Fifty-seven percent of for-profit hospitals are receiving bonuses, while only 21 percent of government-owned hospitals are gaining money.
It is far from clear that the new payment program will significantly improve hospitals. When Medicare tested a similar approach with 266 hospitals that volunteered through the Premier hospital alliance, performance scores shot up significantly. But a subsequent study found that other hospitals not receiving financial incentives ultimately did just as well. Death rates for patients in the demonstration project also were no better than for patients elsewhere, another study found. A third study found the lowest-performing hospitals did not get appreciably better.
Harold Miller, a health care expert in Pittsburgh, said he doubted the amount of money at play is enough to change the way these institutions function. "It's better than nothing, but it's not what is necessary," Miller said. "It doesn't fix the underlying problem, which is fee for service."
Others say because Medicare insures so many hospital patients, executives have no choice but to respond to the incentives. "It has definitely captured the attention of the industry," said Chas Roades, chief research officer at the Advisory Board Co., a consulting firm that advises hospitals. About 40 private insurers have already adopted their own versions of pay for performance, which Roades said closely track the ones Medicare is using. "They can do that because of the air cover of the largest payer putting in place this process," he said.
In a blog post, Medicare called the program "carefully crafted" and "built on the same recommendations that private purchasers of health care and the Institute of Medicine have recommended and tested for a decade or more." The Institute of Medicine is an independent advisory group and part of the National Academy of Sciences.
Medicare will begin adjusting payments next month through the end of the federal fiscal year in September and will retroactively apply the changes to payments made in the last three months of this year. The cumulative gain or loss for each facility will not be clear until the end of the fiscal year, since hospitals do not know exactly how many patients they will end up admitting and for what conditions.
The bonuses and penalties do not apply to money Medicare pays hospitals for capital expenses, to teach residents or to treat large numbers of low-income patients. Hospitals with too few cases and ones that only offer specific specialties, such as psychiatry, long-term care, rehabilitation and cancer treatment, are exempted. Maryland hospitals are also excluded because the state has a unique reimbursement arrangement with the federal government.
While the numbers of winners and losers in the value-based purchasing program were about even, 2,245 hospitals, or about two-thirds, will end up losing money this year after the readmissions penalties are factored in, according to the KHN analysis. A total of 277 hospitals will lose 1 percent or more of their reimbursements. The Medical Center of Southeastern Oklahoma in Durant will take the biggest hit, with Medicare lowering its payments by 1.8 percent.
For some of the metrics Medicare is using, the differences among hospitals are small and compliance almost universal. For instance, nationally, 97 percent of pneumonia patients in the emergency room had a blood culture performed before receiving their first dose of antibiotics. Just a few patients not getting a test on time or negatively rating their experience can significantly shift how a hospital looks compared to its peers.
Over the next four years, the program will expand to encompass 2 percent of all Medicare payments. Next year Medicare is adding death rates of heart and pneumonia patients, and for future years it is considering other measures, including the cost-efficiency of hospitals; the frequency of infections; and wait times in emergency rooms.
"We're in a transition period," said Rock, the Mayo surgeon. "The whole concept of moving to value-based purchasing is going to unquestionably accelerate."