When Jase and Jennie Stefanski needed to pay a midwife her $5,000 fee for delivering their sixth child 10 months ago, the money came from an unlikely source: people who are members, like them, of a Christian nonprofit group called Samaritan Ministries. In dribs and drabs, the checks arrived, most between $135 and $320, many with personal notes attached congratulating the family.
The Stefanskis don't have health insurance. Instead, they belong to a "health-care sharing ministry" whose members follow biblical teachings that they share each other's burdens – in this case, their medical costs. Each member pays a monthly fee that varies with family size: Single members generally pay $135, couples $270, single-parent families $200 and two-parent families $320. Members pay the first $300 for any medical expense they incur; when they have bills – or "needs," as they call them – above that amount, they send them to the ministry's Peoria, Ill., offices.
The ministry keeps track of the needs, informing other members where to send their monthly check, and letting those who have made requests know what checks to expect.
If there's a shortfall one month – the last one at Samaritan was a little over a year ago – every household seeking help gets a prorated portion of its needs covered, and the ministry asks members for voluntary contributions to make up the difference. If the shortfall continues, members vote on raising the share amount.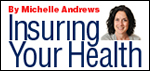 With 56,000 members, Samaritan is the largest such ministry in the country. Two other major ministries operate slightly differently – pooling members' money and sending checks out from the ministry – bringing the total number of people who are sharing their medical costs to roughly 120,000.
Health-care sharing ministries aren't for everyone. In general, members must be practicing Christians – attested to by their pastor in some cases – and abstain from tobacco and illegal drug use. They must agree not to have sex outside marriage – and typically cannot seek help for any medical expenses that arise from such sexual activity.
Rules vary about when or if the ministries cover preexisting medical conditions.
Although the ministries say that they're not providing health insurance and are therefore exempt from state insurance regulations, states sometimes beg to differ. Concerned that members may believe such ministries guarantee coverage of their medical bills, regulators have at times tried to shut them down.
"They've made a commitment to what is effectively health insurance, that when you need to have your medical bills paid they'll help or will pay those costs for you," says Mike Kreidler, Washington state's insurance commissioner.
Earlier this month, Kreidler's department issued a cease-and-desist order to Samaritan. Nonetheless, Kreidler says he believes Samaritan is an "upfront group" and notes that no complaints have been filed with his office against them.
But within days of Kreidler's order, the legislature passed an amendment to an existing bill exempting health-care sharing ministries from state insurance regulations. The bill is on the governor's desk.
This month's action was the first against Samaritan Ministries, which operates in all 50 states, as does Christian Healthcare Ministries, which reports having 25,000 to 30,000 members. Lawsuits over unpaid medical bills incurred by its members caused Melbourne, Fla.-based Christian Care Ministry to withdraw from Montana and stop accepting new members in Illinois, according to the Pew Charitable Trust's Center on the States. The group says it has 40,000 members.
Washington state's Kreidler says he is concerned that the legislature's action may encourage groups that aren't legitimate to take consumers' money and scam them. "What I'm afraid of is that you open the door to a Ponzi-type scheme and illegal activity from which we have no authority to step in and protect consumers," he says.
One of the most important responsibilities of an insurance regulator is to make sure insurers have enough money to pay claims, says Sandy Praeger, the Kansas state insurance commissioner. "We monitor their solvency," she says. "And as a company builds
up its book of business, they have to build up their reserves."
Such concerns don't trouble Jase Stefanski, whose family lives near Vancouver, Wash. "It's not insurance, I know," he says. "It's on my risk."
Stefanski says he likes the connection with other Christians that Samaritan offers. In addition, it's a much more affordable option than the $1,050 a month he was paying for private insurance.
Eleven states have laws that specifically exempt health-care sharing ministries from state insurance regulation.
The federal health-care overhaul adopted by Congress last year also recognizes ministries that share health care expenses as part of their religious practice. The law exempts members of such ministries from the penalty that will be levied against individuals who don't purchase health insurance starting in 2014, a fact which all three of the major ministries highlight to varying degrees on their Web sites.
James Lansberry, Samaritan executive vice president, says membership growth stalled while health care reform was being debated and people were uncertain how health care sharing ministries would be affected. "We're seeing a little higher growth now," he says, although he doesn't expect a huge influx of new members.
Only long-standing ministries are affected by the new law's exemption clause because it limits recognition to organizations that have 501(c)(3) tax-exempt status and have shared medical expenses continuously since at least Dec. 31, 1999. They must also be audited annually by an outside accounting firm.
But these criteria won't necessarily stop scammers from creating fake ministries and soliciting members, says Praeger. "You have to look at the fine print to see whether it's truly one of these [religious] programs or is it someone trying to take advantage of that," she says. "I think we'll see more of that because of the exemption in the Affordable Care Act."