Backers of Montana's seven-month-old Medicaid expansion say they're pleased with the first set of financial data released this week.
State figures say enrollment as of July is nearly double initial projections, at 47,399 of the 25,000 who were expected to enroll by now.
And there's still room to grow: 59,000 Montanans are estimated to be eligible for Medicaid expansion, according to state officials.
Recipients have used their benefits to get $75 million worth of health care, 100 percent paid for by the federal government. That's a big windfall in this state with slightly more than 1 million residents.
The state health department says Montana also saved $5.3 million by shifting 8,458 people from traditional Medicaid, where the state paid 34 percent of their costs, into the expansion population. States are allowed to shift a limited number of previous Medicaid recipients into the expansion pool if they meet certain conditions. Uncle Sam pays 100 percent of the Medicaid costs of the expansion population through next year, ramping down gradually to 90 percent by 2020.
"Perhaps the most compelling story that can be told about Medicaid expansion is the reduction it's had on the uninsured," Jessica Rhoades, policy director for the state health department said Wednesday.
Montana's insurance commissioner announced a "record" 50 percent drop in the state's uninsured rate, from 15 percent in 2015 to 7.4 percent today, crediting Medicaid expansion for most of the drop.
One-fifth of Montanans lacked health insurance in 2012.
The state's uninsured rate ticked down a couple of percentage points each year since the Affordable Care Act rolled out. But state lawmakers here rejected Medicaid expansion upon first consideration in 2013.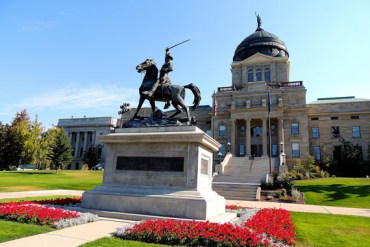 Montana's legislature meets only every other year. It joined Pennsylvania, Iowa and Alaska in passing or implementing Medicaid expansion in 2015. Louisiana implemented it in 2016. A June literature review by the Kaiser Family Foundation found that states that expanded Medicaid "experienced large reductions in uninsured rates and that these reductions significantly exceed those in non-expansion states." (KHN is an editorially independent program of KFF.)
The compromise expansion bill Montana narrowly passed last year was sponsored by moderate Republican Sen. Ed Buttrey of Great Falls. It includes waivers that require higher-income recipients to pay premiums and sets up a workforce training program aimed at helping people get jobs that provide health coverage or boost incomes enough for them to buy marketplace policies.
This week the state health department told the special legislative committee that oversees Medicaid expansion that 61 percent of those enrolled already have jobs.
It also told the committee that Montana has collected $1.1 million in Medicaid premiums so far, and that the average premium, which are assessed based on income, is $26 a month.
Montana's law also allows it to unenroll recipients who make 100 percent of the federal poverty level or more and fail to pay premiums for 90 days or more.
As of June, 379 people had been dropped for failure to pay.
The enrollment and financial data was released two days after three Republican state lawmakers sued Montana's health department for being too slow to release income data for Medicaid recipients.
The health care providers that lobbied hard for expansion in Montana generally said it's still too early to have definitive data on how expansion is impacting them. But John Goodnow, CEO of Benefis Health System, which operates one of the state's largest hospitals, said, compared to last year, it saw a 50 percent reduction in the number of uninsured patients, "which is amazing."
Benefis is projecting a 43 percent reduction in bad debt this year compared to last based on figures from the first half of 2016.
Goodnow says he expects expansion to be a "big, big help" to Montana's critical access hospitals, which have 25 or fewer beds and make up the majority of the state's hospitals.
Also pleased are advocates for Native Americans, Montana's largest minority population, which had an uninsured rate of roughly 40 percent last year. Native Americans have a life expectancy 20 years shorter than that of whites here, and use significantly fewer health care services.
The state health department says 12 percent of Montana Medicaid expansion enrollees are Native American, about a quarter of that population that is eligible to enroll.
"We've benefitted substantially," said Kevin Howlett, health director for the Confederated Salish and Kootenai Tribes. He said expansion has increased both access to care for tribal members, and revenue to tribal clinics, allowing the tribe to provide more services.
This story is part of a reporting partnership with Montana Public Radio, NPR and Kaiser Health News.