A key aspect of the Obama administration's plans for health reform relies on the nations' doctors and hospitals adopting electronic health systems. The goal is to improve quality and reduce costs, but the prospect of buying new systems and training people has been daunting for many providers.
At the start of the year, electronic health records were being used by just 15 percent of acute-care, non-federal hospitals and 25 percent of office-based physician practices, according to the American Hospital Association and the National Center for Health Statistics. They say, though, that those numbers will grow: 81 percent of hospitals and 41 percent of doctors practices said they plan to adopt electronic records over the next two years.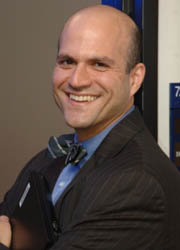 Helping ensure that adoption is the job of Dr. Farzad Mostashari, the new head of the Office of the National Coordinator for Health Information Technology. Mostashari, who has been at the agency since 2009 as the deputy national coordinator, replaced Dr. David Blumenthal, the first head of the office who left in April to return to teaching at Harvard University. Mostashari spoke with Bara Vaida about his new job and his priorities. Here are edited excerpts:
What is the next stage for the "E-health czar" office?
We have to keep doing what we have been doing. [There is a] general consensus that we are on the right track with the right strategy and that came about as a result of a very open, inclusive and transparent decision making process. In the life cycle of this activity, we are moving into an intense stage of implementation and execution. It is time to roll up our sleeves and make the actual changes to the health care system that are needed.
Listen to Mostashari talk adoption of Health IT
A total of $27 billion has been authorized to be spent on health IT. About $2 billion has been spent in the past two years. Where has that money gone?
[The federal stimulus bill] provided health IT incentive payments for hospitals and eligible professionals in Medicare and Medicaid if they adopt and meaningfully use electronic health record systems.
How many do you expect to apply in 2011?
It's a little early to tell. Every group makes a decision based on where they are in the process. Our hope is that every provider will become a meaningful user. We provided $2 billion to help create the infrastructure to help people succeed [at adopting health IT.] That has gone to setting up 62 regional extension centers throughout the country, to information exchange programs in 56 states and territories, to 82 community colleges to help develop the workforce program and to four research and development consortia.
Doctors have been reluctant. It can cost around $50,000 to digitize records and many doctors say they don't have the money, even with the incentives. What are you doing for them?
There are a variety of estimates in how much it costs. Some are lower and some are higher but the funding has made a significant difference and the cost of these systems has come down. There are now venders offering different models that require less upfront capital. There are even low-cost or no-cost models that have been certified. One part of the challenge to adoption is the complexity of the decision making, the difficulty in project management, selecting a product. Those are among the issues we are supporting with the regional extension centers. I am optimistic because I believe increasingly providers are feeling their financial well-being is tied to such efforts.
With Medicare and private payers there are financial incentives now for health care providers to be more patient centered, to have fewer hospital readmissions and to deliver higher quality care. To do those things, providers will need to have better information and better information systems. If you want to improve blood pressure control you need to know first of all what is the level of blood pressure control among all of your patients. You need to have reminders of people who have high blood pressure and about those who you changed their medication and haven't shown up for their appointment. You can't do that with a roomful of paper charts.
So there has been a cultural shift that makes you think you will succeed?
Absolutely. I think one of the most telling parts of that social and cultural shift is how boards of internal medicine and specialty medical boards have been working with us to incorporate meaningful use and effective use of health information technology in the maintenance of certification for professionals. It's becoming part of what it means to deliver good, effective patient-centered care.
I understand there are now 500 software products out there that have been certified to meet the government's health IT standard. How does a doctor choose a software product? I've heard stories of doctors having to buy three systems before finding one that works.
[Helping doctors choose ] is one of the services our regional extension centers are offering.
But will the software be able to talk to each other? How do [the providers] know they won't buy something that doesn't talk to the health exchange or some other system they need to share information with?
We have emphasized interoperability in the certification process. We continue to push the envelope on interoperability with each successive cycle of regulations and standards development and harmonization work.
This seems like a huge business opportunity.
That is right. We think there are great opportunities for venture capitalists and for new start-ups. What one entrepreneur told me was "data is oxygen" and there is a lot more oxygen in the environment now. Once providers have implemented [electronic] records and medications and lab results have been stored electronically, there are all kinds of business opportunities for population health management, business intelligence and analytics, for consumer tools for reaching out to patients with reminders for all sorts of innovative uses of the data and turn it into actionable information.
Privacy advocates must be quite worried about this. What are you doing to address their concerns?
There were important legal and regulatory authorities granted to help increase enforcement, increase penalties and extend the [Health Insurance Portability and Accountability Act's] reach to high tech. We are working with our colleagues in the Office of Civil Rights on enforcement. We have to make sure the technology doesn't get ahead of the policy and there will be important steps toward [privacy and security] this year including governance for trusted intermediaries. We'll be putting out a preliminary rule later this year.