Cost sharing would increase and the  number of child-specific services covered would decline if millions of low-income children now enrolled in the Children's Health Insurance Program (CHIP) were forced to receive coverage through the health law's insurance exchanges, according to a study released Tuesday.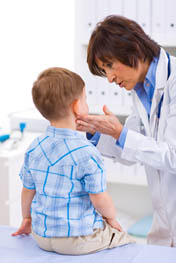 CHIP enrollees in some states could see their cost sharing increase 10-fold if they were transitioned to exchange plans, according to the analysis from the Wakely Consulting Group done for the Robert Wood Johnson Foundation. Those costs include substantial increases in estimated out-of-pocket costs, including deductibles, co-pays and co-insurance. The impact could be even more costly for families who have children with special health care needs.
CHIP provides health insurance to an estimated 8 million low-income children who don't qualify for Medicaid. The study looked at a subgroup of that population — 5.7 million children who were eligible for CHIP in June 2013. The 2010 health care law funded the program through Sept. 30, 2015, and requires states to maintain eligibility thresholds through Sept. 30, 2019, for children under Medicaid and CHIP that were in place in March 2010, when the law was passed. Sen. Jay Rockefeller, D-W.Va., who played a leading role in creating CHIP in 1997, has sponsored legislation to fund the program through 2019.
According to the study, CHIP plans offer richer coverage for key pediatric dental and vision services than most exchange plans. In more than half of the states studied, children moving from CHIP to exchange plans would likely need to purchase stand-alone dental plans in order to have comparable coverage. Those children also would be faced with more cost sharing than was required in CHIP plans.
On average, the analysis finds that CHIP plans cover 82 percent of child-specific health services, while marketplace plans cover just 52 percent.
The study noted that some children moving to exchange plans would be eligible for premium subsidies, but many others would not because their parents were offered job-related insurance, even if the family considered that too expensive.
The report, done in consultation with the children's advocacy group First Focus, compared CHIP and marketplace plans in 35 states that either operate CHIP plans that are separate from their Medicaid programs, or operate their CHIP and Medicaid plans in combination to cover uninsured children. The remaining states use CHIP funding to operate their Medicaid programs and are not included in the report.
"When it comes to affordability and coverage for the care kids need, CHIP is better for children," said Bruce Lesley, president of First Focus.
According to the report, families with incomes of up to 210 percent of the poverty level ($50,085 for a family of four) that have children enrolled in CHIP now have average annual out-of-pocket costs of $97. That same family would face out-of-pocket costs of $926 on average in the health plans offered on the exchanges. Families with children who have special health care needs could out-of-pocket costs as high as $5,200 in the health care marketplace, according to the report.