When buying health insurance, where you live matters. In Pennsylvania and more than a half dozen states, consumers in some cities will pay at least 50 percent more for the same type of coverage than their friends and relatives in other parts of the state.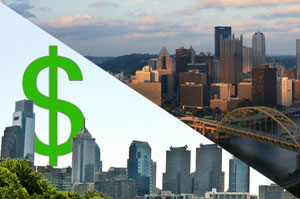 A 40-year-old in Philadelphia, for instance, will spend $300 a month to buy a mid-level insurance plan in the new Obamacare marketplace — 77 percent more than a 40-year-old in Pittsburgh, where the same type of coverage will cost a more modest $169 a month.  Lower-income people eligible for federal subsidies will spend less.
Consumers in Georgia, Wisconsin, California, Arizona, Missouri and Florida will also see wide variations, ranging from more than a 100-percent cost spread between high- and low-cost regions of Georgia, to 82 percent in Wisconsin and 52 percent in Florida.
Long a fact of life in the world of insurance brokers, rate variations within a single state have been thrown into sharp relief because for the first time, consumers can compare prices for comparable products by logging into the new online marketplaces. Earlier this week, the Obama administration released average premium prices for the policies that will be sold in the 36 states whose markets are being overseen entirely or in part by the federal government.
"Identical people with identical incomes will face very different choice and cost of plans," said William Custer, director of the Center for Health Services Research at Georgia State University
For instance, a 40-year-old in rural southwest Georgia would pay $481 a month for a midlevel plan – more than double the cost of someone in the eastern portion of the state, where the premium is $238.
And in California, a 27-year-old buying insurance in Los Angeles will pay $209 a month, 56 percent less than his counterpart in in El Centro, near the Mexican border, who will pay $325. Those premiums are for the second lowest cost plan in the "silver" level of coverage and don't include subsidies, which will bring down the cost for many consumers.
Insurance, Like Politics, Is Local
An estimated 7 million people in 2014 are expected to buy coverage through the new markets, which open for enrollment on Tuesday. The majority of states, including Pennsylvania, defaulted to the federal government to operate their marketplaces or are partnering with the federal government. 
Example: Intrastate Price Variation Of Second-Lowest-Cost Silver Plans For 42-Year-Olds
State
Individual plan for a 42-year-old in the least expensive county
Individual plan for a 42-year-old in the most expensive
Percent Difference
GA
$247
$499
102%
WI
$253
$461
82%
PA
$176
$311
77%
AZ
$175
$271
55%
MO
$247
$374
52%
FL
$241
$366
52%
OH
$247
$369
49%
TX
$196
$286
46%
IL
$209
$296
41%
SC
$239
$329
38%
NM
$202
$274
36%
ME
$306
$405
33%
MI
$232
$300
29%
IA
$206
$265
29%
IN
$284
$365
29%
MS
$339
$425
25%
NC
$279
$344
23%
KS
$205
$250
22%
WV
$245
$299
22%
SD
$274
$330
20%
TN
$194
$233
20%
NE
$235
$281
20%
AL
$246
$290
18%
VA
$262
$307
17%
OK
$199
$231
16%
AR
$284
$317
12%
LA
$302
$332
10%
UT
$187
$204
9%
WY
$409
$442
8%
ID
$226
$240
6%
ND
$281
$298
6%
MT
$258
$268
4%
AK
$395
$395
0%
NJ
$329
$329
0%
NH
$300
$300
0%
DE
$300
$300
0%
Source: U.S. Department of Health and Human Services
"They say all politics is local, and insurance and healthcare are local as well," said Larry Levitt, senior vice president of the Kaiser Family Foundation, a nonpartisan health policy group. (Kaiser Health News is an editorially independent program of the foundation.)
Insurer competition correlates strongly with lower prices, federal data show: Georgia's highest-price region, for instance, has only one insurer — Blue Cross Blue Shield of Georgia, Custer said. In other parts of the state, different insurers are offering different prices even for the same type of coverage, he said. 
Insurers say they set premiums based on expectations about who will enroll: Will newcomers be generally young and healthy or older or sicker? Other factors include what they pay for labor costs and whether they've been able to negotiate favorable rates with hospitals, doctors and other medical providers.
Some insurers may price low to attract market share.  Others are creating insurance plans that limit the network of doctors or hospitals to keep premiums low.  Cost-of-living variation also plays a role.
Philadelphia has both the highest costs in Pennsylvania and the highest utilization of medical care, which accounts for much of the higher premiums, said Brian Lobley, senior vice president of marketing and consumer business for Independence Blue Cross, one of the area's two major insurers.  The insurer does not sell in the Pittsburgh region.
But something else besides Philadephia's higher costs is at play, said Mark Pauly, professor of health care management at the Wharton School, University of Pennsylvania.
That something is likely market competition between insurers and rival hospital systems, he said.  That dynamic can spur tougher negotiations between insurers and hospitals, which might agree to lower charges.  And regions with competing insurers often see lower premiums.
"There is something of a price war right now" in Pittsburgh between insurer Highmark and the University of Pittsburgh Medical Center, which also has its own insurance plan, said Joel Ario, a managing director with consultant, Manatt Health Solutions, and a former state insurance commissioner. "They've got the ideal situation, with competing insurers and competing hospital systems."
In Philadelphia, by contrast, there are many hospitals and each has market clout.
"They can resist any effort to cut them out of a network or to bargain,"because insurers believe they must have every hospital in their network or risk losing customers, Pauly said.
Narrow Networks
Nationally, some of the lower-cost plans are likely to have narrower networks of doctors and hospitals, said Robert Laszewski, a former insurance executive who is now an Alexandria, Va.-based consultant.
"One of the only ways they can vary the price is by their networks," he said.
That's because, starting Jan. 1, the law bars insurers from rejecting applicants based on their health, or from charging the sick more than the healthy.  They can, however, vary premiums based on age, whether the applicant smokes and where they live.
Because the government data released this week does not name insurers – nor give information on the size of the plans' doctor and hospital networks – it is difficult to tell whether lower cost plans do indeed have smaller networks.   Some consumer groups fear patients may not have access to a wide enough range of doctors or hospitals in some plans and may have to pay more to see an out-of-network specialist as a result.
Ario says there are good small networks and bad ones. The bad ones are those where insurers simply lop off half their providers based solely on price. The good ones create an integrated network with high quality hospitals and doctors.
"The idea that all narrow networks are designed to focus only on price and produce less choice for consumers is not true," he said. "Some of the best quality insurers now are integrated systems, which tend to have narrow networks."
Experts say the impact of price variations on enrollment is hard to predict.
"That's the question we're all asking ourselves," said Michael Campbell, director of the Interdisciplinary Health Law Clinic at Villanova University School of law, just outside Philadelphia. "But I don't see people hopping on the bus and relocating to Pittsburgh" to get a better rate."
See Chart: Monthly Premiums For A 'Benchmark' Silver Plan In Federally Run Insurance Marketplaces