With a record 73 million people enrolled in Medicaid, most states next year will tighten controls on spending to battle swelling budgets in the public health insurance program for low-income and disabled Americans, according to a report released Thursday.
The leading strategies to contain costs are already used in some states, but they will soon take root in more places, the Kaiser Family Foundation reported in its annual 50-state survey. (Kaiser Health News is an editorially independent program of the Kaiser Family Foundation.)
They include hiring private managed care companies to deliver services to enrollees, shifting more long-term care services from nursing homes to community settings and restricting the use of ever-more expensive prescription drugs. The push to stretch dollars further is a reaction to next year's reduction in federal aid for states that expanded Medicaid under the Affordable Care Act. Thirty-one states and the District of Columbia did so and starting Jan. 1, they will begin paying 5 percent of their expansion costs. The federal government paid all the expansion costs in 2014 through 2016.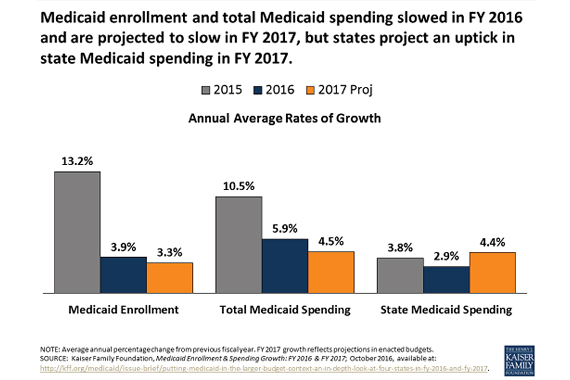 State Medicaid spending is projected to jump to 4.4 percent in 2017 compared to 2.9 percent in 2016 and 3.8 percent the previous year, the report said.
In contrast, total Medicaid spending will grow 4.5 percent in 2017 — which is lower than the 5.9 percent in 2016 and 10.5 percent in 2015, according to the report said.
Total Medicaid spending was $509 billion in the fiscal year ended Sept. 30, 2015. The federal share was 62 percent and states paid 38 percent, according to Kaiser's analysis of federal data.
The Kaiser report found that 39 states use private plans to manage care for Medicaid enrollees. Of those states, 28 reported that at least 75 percent of all enrollees were in a managed care plan, up from 21 states a year ago.
Iowa, Rhode Island and West Virginia ended their primary care case management programs — in which physicians managed care of enrollees — in either 2016 or 2017 and shifted those populations into managed care.
Alabama plans to implement a managed care program next year and Missouri plans to expand its existing program to become statewide in 2017.
Nearly every state reported actions to increase the use of home or community-based settings for people needing long-term care, the report found. States have been trying to shift such care from expensive nursing homes for nearly 20 years.
Countering the rising costs of prescription drugs remains a priority for many Medicaid programs, Kaiser found. Twenty-three states reported they have taken or plan actions to contain pharmacy costs in 2017. Thirty-one states said the same in Kaiser's survey last year.
Cutting or freezing reimbursement rates to health providers is also a common way that states try to control Medicaid spending. Providers include hospitals, managed care organizations, primary care physicians, specialists, dentists and nursing facilities.
Kaiser's survey this year points to a narrow reversal in a four-year trend of rate increases for providers. The foundation said 41 states have adopted rate restrictions for at least one provider in the coming year, but only 40 states plan a rate increase for one or more providers.
States were more likely to increase rates for outpatient hospital, primary care physicians, specialists, dentists and nursing facilities and more likely to freeze or cut rates for inpatient hospital care.
For enrollees, 20 states plan to expand benefits in 2017, the report found. Four states reported benefit cuts or adding restrictions for 2017.
The most common benefit enhancements reported were for behavioral health and substance use disorder services, telemedicine and dental care for adults.
Overall, enrollment growth in Medicaid is slowing after a meteoric rise since 2014 as many states took advantage of the federal health law to expand coverage to  all adults with incomes at or below 138 percent of the federal poverty level, about $16,394 for an individual in 2016. Medicaid enrollment increased 3.9 percent in 2016 and is projected to increase 3.3 percent in 2017. That compared to double-digit increases after the expansion began in 2014.
Eight of the Medicaid expansion states (Arkansas, Arizona, Colorado, Illinois, Indiana, Louisiana, New Hampshire and Ohio) plan to use provider taxes or fees to pay for all or part of their additional costs.
Under the law, the federal government's share of Medicaid expansion costs will continue to fall, dropping to 94 percent in 2018, 93 percent in 2019, and 90 percent in 2020 and beyond.