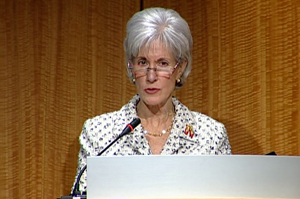 The Obama administration is working aggressively to fend off critics of the CLASS Act, a voluntary insurance program created by the new health law to help individuals who require long-term care remain in the community. Health and Human Services Secretary Kathleen Sebelius today promised to pursue changes to ensure the program is financially self-sustaining into the future.
The Community Living Assistance Services and Support Act, to be run by HHS, would provide cash benefits that could be used for a variety of non-medical expenses, such as paying for a home health aide or a family member who provides care, modifications to a home and special transportation needs.
Opponents, such as Brian Blase at the Heritage Foundation, argue that the program won't be able to support itself therefore could become a burden to taxpayers. Blase says the program is "a Ponzi scheme that transfers money from current payees to current beneficiaries." And even President Barack Obama's National Commission on Fiscal Responsibility and Reform recommended last year that the CLASS Act be repealed or changed.
Acknowledging concerns that the program will not be self-sustaining, Sebelius said at a meeting on her long-term services under the health overhaul that her department is considering various options to make sure that doesn't happen. She emphasized the importance of attracting healthy, less-costly people to the program to keep costs in check.
She also said that her department is "looking at options for indexing premiums so they would rise along with benefits." In addition, she wants to "close loopholes" that she said might allow individuals to drop out of the program and then return without paying a penalty.
Sebelius is contemplating ways to encourage businesses to participate so that their workers are enrolled easily. Employer participation is critical because if an employer joins the program, all of the company's working adults will be automatically enrolled unless they opt out. Others, including self-employed individuals and people whose employers do not participate, will be able to enroll on their own.
Participating employees will pay into the system through a payroll deduction. After five years of payments, people who require long-term care services will receive an average cash benefit of at least $50 a day to help them continue living in the community. On its website, HHS says the program could begin after October 2012.
The Congressional Budget Office, in an analysis made before the health law was passed, estimated that monthly premiums for CLASS will average about $123. It said that recruiting large numbers of health participants will be critical for the overall health of the program.
"It would be irresponsible," Sebelius said, "to ignore the concerns about the CLASS program's long-term sustainability in its current form, and we haven't done that. But it would unconscionable to ignore the likelihood that without the CLASS Act countless Americans will have to clear out their savings and leave their homes and loved ones in order to get the services they need."
Correction:
Because of an editing error, this story originally said the HHS website was reporting that the CLASS program would begin in October. The correct date is after October 2012.
Marilyn Werber Serafini is the Kaiser Family Foundation's Robin Toner Distinguished Fellow based at Kaiser Health News. The fellowship honors the late Robin Toner, The New York Times' long-time health and politics reporter whose work often framed the public debate on health issues. KHN is an editorially independent news service of the foundation.