Many readers have contacted me about health insurance and the Affordable Care Act. Here are answers to some of their questions.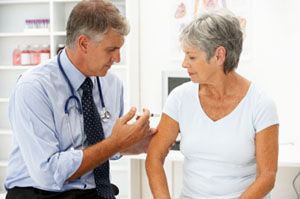 Q. I have Medicare and a Plan F Medigap plan, so I should be covered for all medical needs. But in order to get the shingles vaccination, it will cost me $185. I can't pay this without using my grocery or prescription money. It's totally unfair. What can I do?
A. Shingles is a painful rash caused by a virus that can lead to long-term nerve damage called postherpetic neuralgia. All Medicare Part D prescription drug plans cover the shingles vaccine, which is recommended by the Centers for Disease Control and Prevention for people age 60 and older. But Medigap plans, which may cover the deductible and coinsurance amounts for services provided under Medicare Parts A and B (hospitalization and outpatient care), don't offer any financial help on the co-payments for vaccines and other drugs covered under Part D.
A Government Accountability Office report published in December found that seniors faced many obstacles to getting needed vaccines, including the shingles vaccine. Many physicians don't recommend or even stock the shingles vaccine, the report found. The amount that the patient pays out of pocket for that vaccine could also be a barrier, according to the report.
If the only health coverage you have is through Medicare and your Medigap plan, there are still ways you may be able to reduce your co-payment for the vaccine, says David Lipschutz, a policy attorney at the Center for Medicare Advocacy in Washington.
First, if you have Part D coverage, contact your plan to make sure the co-payment you're being quoted is accurate.
In addition, many doctors who don't stock the vaccine ask patients to buy it from the pharmacy. If that's the case, make sure the pharmacy is in your plan's network so you'll owe a smaller co-payment than if you buy the vaccine from an out-of-network pharmacy, Lipschutz says.
If the vaccine co-payment is still too high, it may be worth looking into other Part D plans or signing up for one during the upcoming annual enrollment period, Oct. 15 to Dec. 7. Depending on your other prescription drug needs and coverage, you may be able to find a better deal, Lipschutz says.
It's worth noting that under the 2010 health care law, people who have new private health insurance plans and those whose plan benefits have changed significantly are eligible to receive, free of charge, vaccines recommended by the CDC's Advisory Committee on Immunization Practices. Plan members who are in their early 60s, therefore, might qualify for a shingles vaccine without a co-pay.
Q. Do I have to keep my 18-year-old child on my health insurance?
A. In a word, no. The Affordable Care Act requires insurers to offer to cover adult children of policyholders until age 26, but it doesn't require parents to purchase that coverage, according to an official at the Department of Health and Human Services.
Requiring parents to purchase coverage might not be affordable for everyone. Many employers are increasing the cost of dependent coverage, say experts. In addition, "if you have a sick child, that could significantly increase your premium," depending on your plan, says Timothy Jost, a law professor at Washington and Lee University who has written extensively about implementation of the health law. The situation will change in 2014, when health plans will no longer be able to charge people more for coverage if they're sick.
Generally, parents can add or drop dependent coverage during their health plan's annual open enrollment period. Adult children who are no longer covered by their parents' plans can apply for an individual policy or may get coverage through a college plan if they're students. If they're working, they may be able to get insurance on the job. Adult children who have medical problems may be able to enroll in the state's preexisting condition insurance plan, after a six-month period without insurance.
Q. What's to stop a teenager from getting her own individual policy once she finds out she's pregnant, if her parents' plan won't cover her maternity care?
A. Although health plans must offer to cover adult children on their parents' plans until they reach age 26, insurers aren't required to provide them maternity benefits (see the Aug. 6 story on this subject). In that case, a young person or her parents might consider buying an individual policy, as this questioner suggests. But they may run into obstacles.
First, if someone is 19 or older and pregnant when she applies for an individual policy, insurers will likely turn her down because the pregnancy will be considered a preexisting medical condition.
In the individual market, insurers can and do turn people away if they have medical conditions, even temporary ones like pregnancy. The rationale, at least in part, is to discourage people from waiting until they're ill — or pregnant — to buy insurance, say experts.
If the young woman is under 19, she may have better luck getting coverage. Under the health law, insurers can no longer deny coverage to children under age 19 because of preexisting medical conditions. These young people may be eligible for "child-only" individual policies — if their state sells them.
Even if the policies are available, there may be a hitch: The plan may not cover maternity care, and even if it does, the premiums may be pricey.
"The law doesn't place any requirements on the benefits that are offered [in child-only plans] or the price," says Kevin Lucia, a research professor at Georgetown University's Health Policy Institute.
A study published in March by the National Women's Law Center found that only 12 percent of policies sold on the individual market covered maternity care.
Please send comments or ideas for future topics for the Insuring Your Health column to questions@kffhealthnews.org.