Unexpected medical bills top the list of health care costs Americans are afraid they will not be able to afford, with 4 in 10 people saying they had received a surprisingly large invoice within the past year, according to a new poll.
The Kaiser Family Foundation poll found that 67 percent of people worry about unexpected medical bills, more than they dread insurance deductibles, prescription drug costs or the basic staples of life: rent, food and gas. (Kaiser Health News is an editorially independent program of the foundation.)
Thirty-nine percent of insured adults under age 65 said they had received a medical bill within the previous 12 months that they'd figured would be covered or that was higher than they anticipated. Half of those people said the bill was less than $500, but nearly 1 in 8 said they were on the hook for $2,000 or more.
A quarter of people who said they received a surprisingly large bill attributed it to a doctor, hospital or other provider that was not in their insurance network. Such providers often will not accept the amount an insurer thinks a procedure or test should cost, and they bill the patient for the difference. That practice, known as balance billing, is one of the most common types of outsize charges that KHN and NPR profile in the "Bill of the Month" series.
Another poll recently conducted by NORC at the University of Chicago, a research group, found similar numbers of people had received a surprise bill. The most common charges were for a physician's service or a lab test.
Once again, the Kaiser poll found that a majority of the public — regardless of political party — does not want insurers to be allowed to deny coverage or charge higher premiums because of someone's medical history or health status. Both practices were standard in the health insurance industry until they were outlawed by the Affordable Care Act in 2010.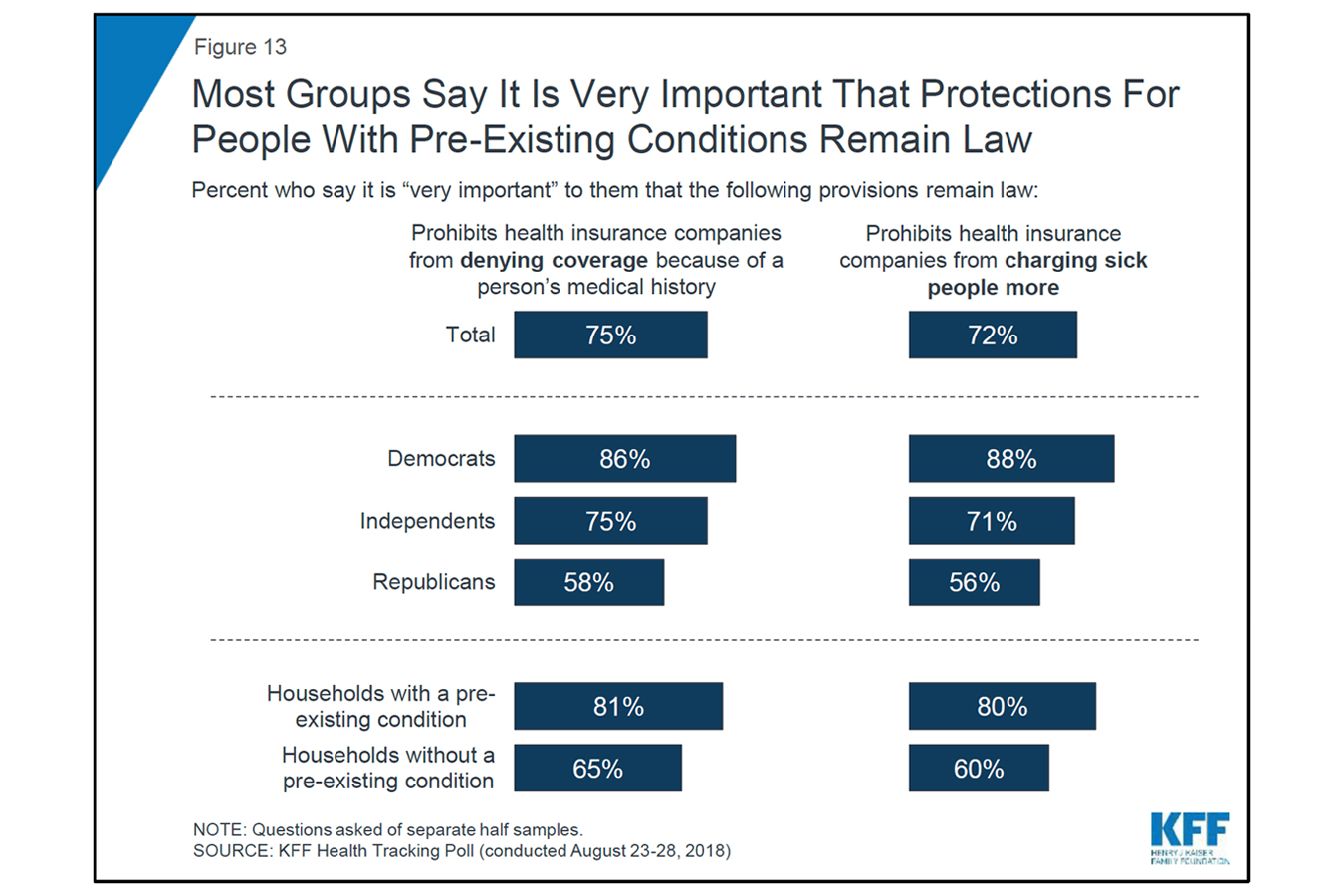 Those protections would be suspended if a group of Republican attorneys general who assert the law is unconstitutional persuade a federal court judge in Texas this week that the health law be put on hold while their case against the ACA is litigated. The ACA protections are supported by at least 86 percent of Democrats, 71 of independents and 56 percent of Republicans, the poll found.
Americans said there was plenty of blame to go around for the high cost of health care. At the top, 78 percent of the public said excessive drug company profits were a major reason health care costs are rising. That is a 7 percentage point increase from 2011 and more than any other single reason. A majority of the public also blamed waste and fraud, unnecessarily high hospital charges, excessive insurance profits and the cost of new medical technologies.
The poll was conducted Aug. 23-28 among 1,201 adults. The margin of error was +/-3 percent.