I am taken aback by how callous they have been.

Elizabeth Woodruff
Nick Woodruff, 37, Binghamton, New York
Approximate Medical Debt: $20,000
Medical Issue: Diabetes
What Happened: Nick Woodruff's wages were garnished for the first time in 2016.
Woodruff, who was diagnosed with diabetes in his 20s, had a good job. He worked for a truck dealership in this small city 175 miles northwest of New York while his wife, Elizabeth, completed her degree in social work. His job had health benefits. The couple had recently bought a home.
But a small infection on Nick's foot related to the diabetes set off a cascade of medical emergencies and financial struggles that the Woodruffs are still laboring to put behind them.
First Nick's infection spread to the bone and threatened to overwhelm his immune system. He was hospitalized and suffered damage to his heart and kidneys.
More complications followed. Nick slipped going down the stairs, shattering his foot. Doctors later had to amputate it.
Then came thousands of dollars of medical bills, followed by debt collectors.
"We were drowning in medical debt, and he was not doing well," Elizabeth recalled.
The bills were overwhelming and often incomprehensible. "There's a lot that we owe that we don't even know," Elizabeth said.
The Woodruffs withdrew money from their retirement accounts. Their siblings kicked in to pay off some bills.
Elizabeth got a job as a social worker at the hospital, Our Lady of Lourdes Memorial Hospital, a Catholic institution that is now part of the Ascension chain. But that did little to forestall the debt collectors.
The hospital sued Nick, and he was ordered to pay an additional $9,391 before Elizabeth persuaded the hospital to lower the bill by several thousand dollars.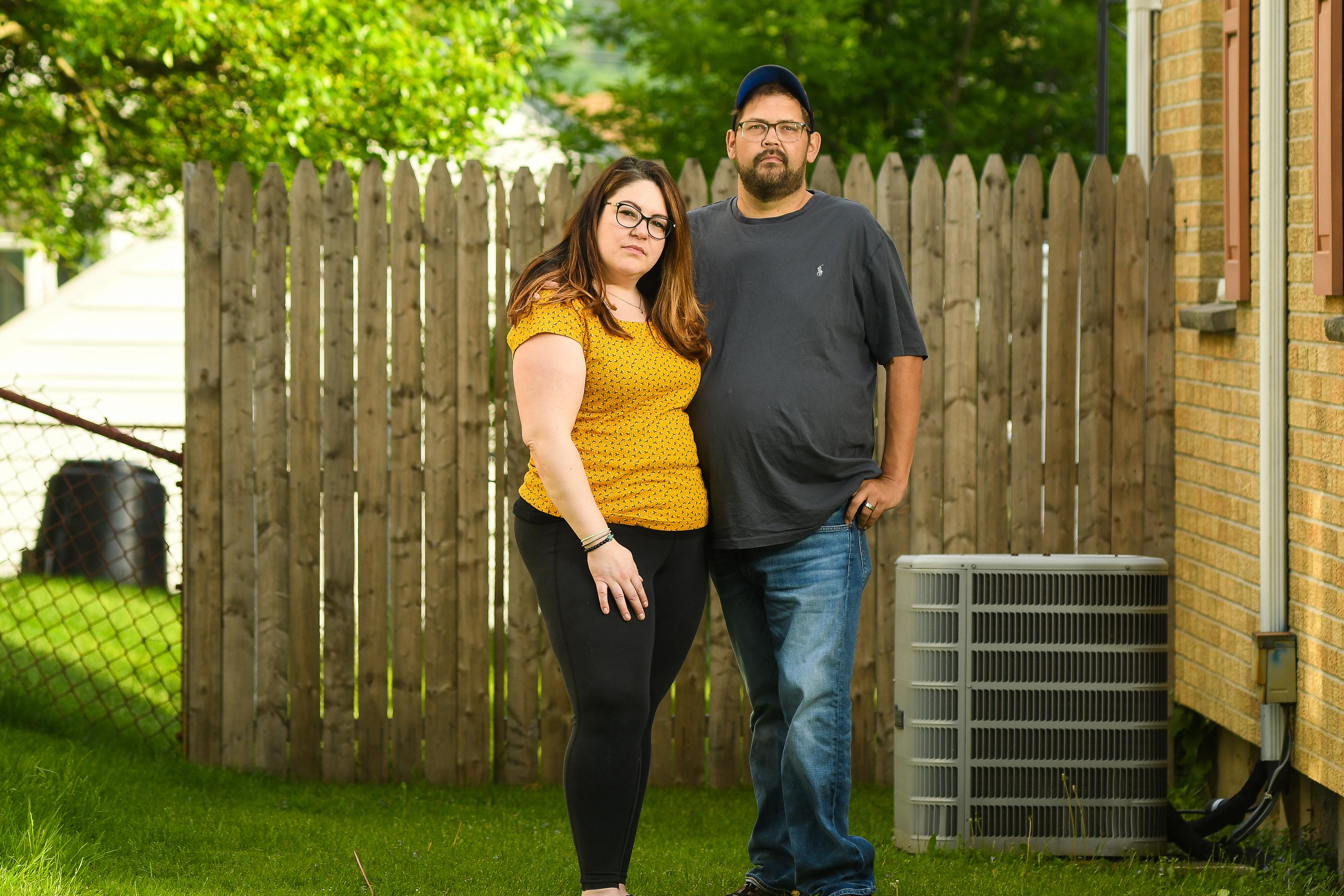 What's Broken: The Woodruffs' struggles with debt are a common experience for Americans who have chronic illnesses such as diabetes, heart disease, and cancer.
These people are more likely to end up with medical debt than those who are healthy, a nationwide poll conducted by KFF found.
In fact, illness is the strongest predictor of medical debt, according to an analysis by the Urban Institute, which looked at county-level debt and disease data across the country.
In the 100 U.S. counties with the highest levels of chronic disease, nearly a quarter of adults have medical debt on their credit records. By contrast, in the healthiest counties fewer than 1 in 10 have debt.
What's Left: The Woodruffs have managed to pay down some of their debt, and Nick is on disability benefits because he's no longer able to work.
Elizabeth has a new job, so she doesn't have to work for the hospital that sued them.
They said they feel lucky to have been able to pay many of their bills. "I feel sorry for the people who don't have the resources that we did," Nick said.
But the couple remains shocked by the aggressive debt collections.
"This hospital boasts Catholic values and states they take pride in their charity work," Elizabeth said, "but I am taken aback by how callous they have been."
About This Project
"Diagnosis: Debt" is a reporting partnership between KHN and NPR exploring the scale, impact, and causes of medical debt in America.
The series draws on original polling by KFF, court records, federal data on hospital finances, contracts obtained through public records requests, data on international health systems, and a yearlong investigation into the financial assistance and collection policies of more than 500 hospitals across the country. 
Additional research was conducted by the Urban Institute, which analyzed credit bureau and other demographic data on poverty, race, and health status for KHN to explore where medical debt is concentrated in the U.S. and what factors are associated with high debt levels.
The JPMorgan Chase Institute analyzed records from a sampling of Chase credit card holders to look at how customers' balances may be affected by major medical expenses. And the CED Project, a Denver nonprofit, worked with KHN on a survey of its clients to explore links between medical debt and housing instability. 
KHN journalists worked with KFF public opinion researchers to design and analyze the "KFF Health Care Debt Survey." The survey was conducted Feb. 25 through March 20, 2022, online and via telephone, in English and Spanish, among a nationally representative sample of 2,375 U.S. adults, including 1,292 adults with current health care debt and 382 adults who had health care debt in the past five years. The margin of sampling error is plus or minus 3 percentage points for the full sample and 3 percentage points for those with current debt. For results based on subgroups, the margin of sampling error may be higher.
Reporters from KHN and NPR also conducted hundreds of interviews with patients across the country; spoke with physicians, health industry leaders, consumer advocates, debt lawyers, and researchers; and reviewed scores of studies and surveys about medical debt.