For years, seniors in Medicare have been told that if they don't improve when getting physical therapy or other skilled care, that care won't be paid for. No progress, no Medicare coverage — unless the problem got worse, in which case the treatment could resume.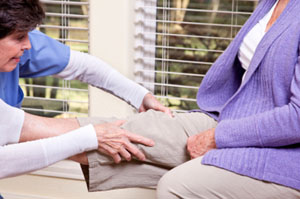 This frustrating Catch-22 spurred a class-action lawsuit against Health and Human Services Secretary Kathleen Sebelius. In January, a federal judge approved a settlement in which the government agreed that this "improvement standard" is not necessary to receive coverage.
"This will help a lot of older or disabled people who clearly need the skilled care and aren't getting it because they will not get better," said Margaret Murphy, associate director of the Center for Medicare Advocacy, which helped bring the lawsuit. "The settlement recognizes that Medicare will pay for care to maintain their condition and prevent backsliding."
The settlement took effect immediately for both traditional Medicare and private Medicare Advantage plans. It applies to care by skilled professionals in outpatient therapy, home health care and nursing homes, Murphy said.
Medicare officials have until January to revise their manuals and launch an education campaign for providers, people who staff the 800-MEDICARE information line and others. The agreement does not require Medicare to tell beneficiaries about the case.
Medicare spokeswoman Tami Holzman said that the agency is "working to implement the terms of the settlement and ensure that beneficiaries have access to the full range of services that they are entitled to under the law." She also said that the settlement means that "claims should not be denied solely based on a rule-of-thumb determination that a beneficiary's condition is not improving."
In April, Medicare officials posted on the Web a two-page fact sheet about the case stating that "a beneficiary's lack of restoration potential cannot, in itself, serve as the basis for denying coverage."
Yet providers may not know about the settlement yet and may still be telling patients, incorrectly, that Medicare won't cover treatment if there's no improvement.
The Center for Medicare Advocacy offers free "self-help" packets for Medicare patients explaining how to challenge a denial of coverage and suggests that patients make a copy of the settlement to reassure health-care providers that Medicare will pay for maintenance care even if Medicare has not yet sent out an official notice.
Here are some basic questions and answers about the case.
Q. How does the settlement affect outpatient physical, occupational and speech therapy?
A. Medicare covers these treatments at home, in a nursing home or at a therapist's private office to maintain the patient's condition and prevent decline. The settlement makes clear that coverage does not depend on the "potential for improvement from the therapy but rather on the beneficiary's need for skilled care."
However, it does not change other criteria for coverage: Patients still need a doctor's order indicating that treatment is medically necessary, and therapy must be provided or supervised by a trained professional. Also, payment caps on therapy remain in effect. Medicare will pay up to $1,900 this year for physical and speech therapy and another $1,900 for occupational therapy.
Therapists can obtain an exception to allow additional care, however, according to a Medicare fact sheet. http://www.medicare.gov/Pubs/pdf/10988.pdf There is no pay limit if therapy is part of a home health care plan.
Q. Is home health care affected?
A. The agreement might have a major impact on seniors with chronic illnesses who want to remain in their homes by ensuring that Medicare covers skilled care there. These services include therapy, mental health counseling and nursing care. To be eligible, Medicare requires that the patient be homebound although not necessarily confined to bed. Visiting nurses are covered for services at home, including administering intravenous drugs or wound care. There is no time limit for home care if the amount
of skilled care is reasonable and not given daily, if it is provided by a trained professional and if the patient has a doctor's order indicating that treatment is medically necessary.
Medicare pays for part-time home health aides to provide assistance with dressing, eating and other daily living activities, but only for patients who also receive skilled care at home. Medicare doesn't pay for care from friends or family members.
Q. What does the agreement say about nursing home coverage?
A. It states that skilled nursing services are covered when "necessary to maintain the patient's current condition or prevent or slow further deterioration."
Other requirements for nursing home coverage still apply: Nursing services or therapy must be based on a patient's clinical condition and be provided by a registered nurse, licensed practical nurse or therapist. Beneficiaries qualify only after having spent at least three days in the hospital as an inpatient. (Observation hospital stays don't count.)
Medicare will cover up to 100 days in a nursing home per "benefit period," which starts when a beneficiary enters the hospital or a nursing home for skilled care and ends 60 days after the skilled care has been discontinued.
Q. What about nursing home residents in long-term care who have used up their 100 days and pay out of their own pockets?
A. Seniors can still get skilled care even if they are not improving and have used up their 100 days of nursing home coverage. Even if residents do not qualify for Medicare for their stay in the nursing home, Medicare may cover physical therapy and other skilled care for those who meet the requirements for outpatient therapy. The $1,900 outpatient therapy caps would also apply.
Q. Will Medicare reimburse people who were denied coverage due to a lack of improvement?
Yes, a special review process will be set up for patients whose claims were denied after the lawsuit was filed on Jan. 18, 2011.