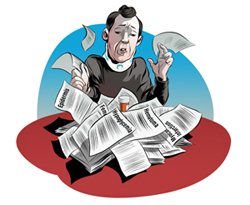 An elderly woman sent home from the hospital develops a life-threatening infection because she doesn't understand the warning signs listed in the discharge instructions. A man flummoxed by an intake form in a doctor's office reflexively writes "no" to every question because he doesn't understand what is being asked. A young mother pours a drug that is supposed to be taken by mouth into her baby's ear, perforating the eardrum. And a man in his 70s preparing for his first colonoscopy uses a suppository as directed, but without first removing it from the foil packet.
Each of these examples provided by health-care workers or patient advocates illustrates one of the most pervasive and under-recognized problems in medicine: Americans' alarmingly low levels of health literacy – the ability to obtain, understand and use health information.
Translating Medical Jargon
Some technical terms and what they mean in plain English:
"myocardial infarction" (heart attack)
"hyperlipidemia" (high cholesterol)
"febrile" (feverish)
A 2006 study by the U.S. Department of Education found that 36 percent of adults have only basic or below-basic skills for dealing with health material. This means that 90 million Americans can understand discharge instructions written only at a fifth-grade level or lower. About 52 percent had intermediate skills: They could figure out what time a medication should be taken if the label says "take two hours after eating," while the remaining 12 percent were deemed proficient because they could search a complex document and find the information necessary to define a medical term.
Regardless of their literacy skills, patients are expected to manage multiple chronic diseases, to comply with drug regimens that have grown increasingly complicated and to operate sophisticated medical devices such as at-home chemotherapy equipment largely on their own.
Health literacy "affects every single thing we do," said Susan Pisano, a member of the Institute of Medicine's health literacy roundtable and vice president of communications for America's Health Insurance Plans, the industry trade association. "The implications are mind-boggling."
As recently as a decade ago, the problem of health literacy was largely the province of academic researchers who published study after study documenting the glaring mismatch between the dense, technical and jargon-heavy materials routinely given to patients, some written at the graduate school level, and their ability to understand them.
These days, health literacy is the focus of unprecedented attention from government officials, hospitals and insurers who regard it as inextricably linked to implementing the health-care overhaul law and controlling medical costs. The new law, which contains explicit references to health literacy, requires that information about medications and providers be made accessible to those with limited skills. In October, President Barack Obama signed the Plain Writing Act, which will boost that effort by directing federal agencies to use plain language in their materials.
Adding urgency to those endeavors is the projected influx into the health care system of 32 million currently uninsured Americans who will begin to get coverage in 2014 under the new law.
See Details
See details of the National Action Plan To Improve Health Literacy
"Health literacy is needed to make health reform a reality," Health and Human Services Secretary Kathleen Sebelius said last year as she launched the National Action Plan to Improve Health Literacy, an effort designed to eliminate medical jargon and the complex, often convoluted explanations that pervade handouts, forms and Web sites.
"A whole bunch of new people are going to be entering the health-care market and making decisions that involve not just cost and 'Is my doctor in the plan?'" but also complicated trade-offs about risks and benefits, said Cindy Brach, a senior policy analyst at the Agency for Healthcare Research and Quality, which has made improving health literacy a priority.
Keeping It Simple
Studies have linked poor health literacy, which disproportionately affects the elderly, the poor and recent immigrants, to higher rates of hospital readmission, expensive and unnecessary complications, and even death. A 2007 study estimated the problem cost the U.S. economy as much as $238 billion annually.
Starting this year, the Joint Commission, the group that accredits hospitals, is requiring them to use plain-language materials and to "communicate in a manner that meets the patient's oral and written communication needs" in providing care.
Hospitals and health plans increasingly are turning to computer software that analyzes materials given to patients and flags overly technical language such as "myocardial infarction" (heart attack), "hyperlipidemia" (high cholesterol) and "febrile" (feverish). One program, developed by Bethesda-based Health Literacy Innovations, is being used by the National Institutes of Health, CVS and Howard University Hospital. It analyzes texts for complexity and suggests ways to simplify them.
Employers are pushing insurers to demonstrate that the materials they give patients are simple and intelligible, said Aileen Kantor, founder of Health Literary Innovations.
Instead of handing a patient pages of instructions, some hospitals and clinics are using videos or handouts with lots of pictures.
Doctors at Boston Medical Center have pioneered an innovative program called Project RED, short for Re-Engineered Discharge, an effort that between 2006 and 2007 reduced readmission rates for the first month after discharge by 30 percent and costs by 33 percent. Instead of standard instructions, RED patients received a personalized discharge booklet, along with help making follow-up appointments and a call from a pharmacist a few days after they arrived home.
A Positive Test
Javed Butler, a heart surgeon at Emory University Hospital in Atlanta, said one obstacle to improving health literacy is the language that doctors typically use. "When we say 'diet,' we mean 'food,' but patients think we mean going on a diet. And when we say 'exercise,' we may mean 'walking,' but patients think we mean 'going to the gym.' At every step there's a potential for misunderstanding," said Butler, who added that he tries not to lapse into "medicalese" with patients.
It's not a problem only for those with basic skills. Paula Robinson, a patient education manager at the Lehigh Valley Health Network, which includes three hospitals in eastern Pennsylvania, said that even highly educated patients are affected, particularly if they're stressed or sick.
She cites the initial reaction of former New York Mayor Rudolph Giuliani, who thought he was cancer-free when his doctor told him several years ago that his prostate biopsy was "positive." Actually, a positive biopsy indicates the presence of cancer.
Many patients, Robinson said, won't ask questions or say they don't understand, either because they are intimidated or worried about looking stupid. Some simply tune out or shut down, she said, and "a lot of people take things literally because of anxiety."
Robinson recounts one such case: A patient who had been prescribed daily insulin shots to control his diabetes diligently practiced injecting the drug into an orange while in the hospital. It was only after he was readmitted with dangerously high blood sugar readings that doctors discovered he was injecting the insulin into an orange, then eating it.
AHRQ's Brach said that some time-strapped doctors have complained that their schedules are too packed to add literacy concerns to the list.
But she said simple measures that are not unduly time-consuming can be integrated into the visit. They include a method called "teach back," which asks patients to repeat in their own words what they have just been told.
Illinois geriatrician Cheryl Woodson said she avoids making assumptions about her patients' health literacy. "You can't tell by looking," said Woodson, a solo practitioner in Chicago Heights.
"I never ask, 'Do you understand?'" she added, "because they say, 'Uh-huh,' and you don't know what they understand. So instead I'll say, 'I know your daughter is going to want to know about this, so what are you going to tell her?'"
No Literacy
Sometimes the problem is not health literacy, but the ability to read or write at all. It is estimated that 14 percent of adults are illiterate, but many find ingenious ways of compensating and take great pains to hide the problem.
Archie Willard said he avoided going to the doctor for years before he learned to read at age 54. Even today Willard, now 80, said he struggles with reading – he is severely dyslexic – and identifies his medication by the shape and color of the pill, not by reading the label.
Willard, who divides his time between Iowa and Arizona, said that before he learned to read he employed a strategy in medical settings common among those who cannot read or write. "I would say I couldn't fill out the paperwork because I forgot my glasses. And I didn't even wear glasses."
Many experts predict that efforts to boost health literacy may benefit even the minority who are proficient. "People worry about dumbing things down," Brach said, "but in the research, no one has ever complained that things were too simple. Everybody wants clear communication."