DETROIT – For decades, the Detroit Medical Center and its network of eight hospitals have served as a safety net for thousands of poor patients throughout southeastern Michigan. So when its pending sale to a for-profit hospital system was announced in March, pediatrician James Collins began worrying whether the poor would still get the care they need.
"People depend on us," says Collins, who has practiced at the DMC for more than 50 years.
But Lori Brown, an intensive care nurse who has worked at the medical center for 17 years, was delighted at the news that Vanguard Health Systems of Nashville was buying the DMC. Finding money to purchase the latest technology or just to keep the facility operating properly has been a challenge "as long as I've worked here," Brown says. "Now, if something doesn't work, we say, 'When Vanguard gets here, this will be fixed.'"
The two views reflect the fear and the hope as hospital merger-and-acquisition activity accelerates in Detroit and other cities across the country.
Cash-poor nonprofit hospitals, unable to borrow money for needed improvements in facilities and equipment, are eagerly seeking for-profit suitors. And for-profit hospital companies and investment firms – eyeing the improving economy and the expected influx of millions more insured Americans as a result of the new federal health overhaul law – see opportunity in the nonprofit sector.
But the transactions are also reigniting a long-running debate: Are the deals good for patients, or do they result in an overemphasis on profits that poses a threat to the quality of care?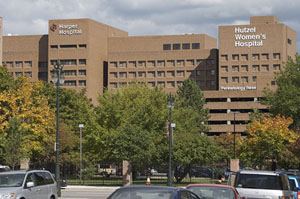 Such questions are especially sensitive in Detroit and Boston, bastions of nonprofit health care. In Massachusetts, state Attorney General Martha Coakley held a series of hearings on the proposed purchase of Caritas Christi Health Care, a Catholic chain that owns six hospitals, by private-equity firm Cerberus Capital Management. The deal remains a topic of intense debate.
The private-equity group, perhaps best known for buying Chrysler, which was later bailed out by the federal government, has pledged to maintain the hospital system's mission of helping the poor. But some consumer advocates, such as Amy Whitcomb Slemmer, executive director of Health Care for All, question whether a for-profit company, particularly one without experience in the hospital market, can fulfill the hospital system's mission of serving a low-income population.
In Detroit's case, Vanguard has agreed to pay DMC $417 million, which will be used to reduce its current debt, and promised to invest an additional $850 million in the system's aging facilities. In addition, Vanguard – which already owns 15 hospitals – has pledged to keep open the system's five acute-care hospitals and to maintain its commitment to charity care for at least 10 years. While the deal still must be approved by the state attorney general, many public officials are enthusiastic. When the deal was announced, Mayor Dave Bing said it sent "a message around the country that we, as a city, are open for business."
The Rev. Skip Wachsmann, who has been a pastor at  the Genesis Lutheran Church on the city's east side for 34 years, remains concerned about the impact on poor people. "What happens in 10 years and one day?"
The uptick in merger-and-acquisition activity shows no signs of slowing, says Robert Fraiman, CEO of Cain Bros., a health care investment banking firm:
— LifePoint Hospitals, which operates 48 hospitals in 17 states, bought Clark Regional Medical Center in Winchester, Ky.
— Community Health Systems, which owns, operates or leases 122 hospitals in 29 states, is purchasing Bluefield Regional Medical Center in Bluefield, W.Va., and Marion Regional Healthcare System in Mullins, S.C.
— Ardent Health Services, which owns eight hospitals, has signed an agreement to buy Forum Health, a three-hospital system in Youngstown, Ohio.
— And there are pending or completed deals involving for-profit companies' buying nonprofit hospitals in Georgia, Tennessee and Florida, says Norwalk, Conn.-based Irving Levin Associates, which tracks the hospital marketplaces.
More Deals To Come
The jump in deals is an indication of what's likely to happen for the rest of the year, some analysts say. In the first six months of this year, at least 50 hospitals were involved in merger-and-acquisition deals, according to Sandy Steever, editor of Irving Levin's M&A Information Service. That's down from 249 for all of 2006 but on pace to perhaps beat the 80 for all of 2009. "For-profit companies are sitting on a fair amount of capital, and they're going to want to invest it," Steever says. "There's clear movement that they're going to be more active."
Still, the acquisition trend is likely to pale in comparison to the late 1990s and early 2000s, when for-profit companies such as Columbia/HCA (now the Hospital Corp. of America) and Tenet Healthcare snapped up nonprofit hospitals at a rapid clip.
No one is predicting that most hospitals will become for-profit entities. Almost three-fifths of the more than 5,000 hospitals in the USA are nonprofit, while an additional one-fifth are for-profit and the rest are government-run, according to the American Hospital Association.
But hospital mergers and acquisitions tend to go in boom-and-bust cycles. "My guess is that this is entering a period of expansion again," says Gerard Anderson, director of the Johns Hopkins Center for Hospital Finance and Management.
One big reason is that the new health overhaul law will eventually extend coverage to an additional 32 million people, reducing the financial burden of the DMC and other hospitals that treat a lot of uninsured patients. "Health reform gets rid of a big chunk of the uncompensated care problem," making urban hospitals more attractive acquisition targets, says Jack Wheeler, a professor of health management and policy at the University of Michigan.
"Detroit, Boston, Chicago – these are not hotbeds" of for-profit hospitals, he says. Traditionally, most acquisitions by for-profit hospitals have been in the Sun Belt and suburban areas with few uninsured patients and high population growth. But some urban nonprofit hospitals are struggling to get credit and see deals with for-profit companies as their best option.
A hospital without capital is "like a person in cardiac arrest," unable to compete in an increasingly competitive and fast-changing arena, says Jim Unland, president of Health Capital Group in Chicago and the editor of the Journal of Health Care Finance.
Michael Duggan, CEO of the DMC, says his system has operated in the black since 2004 but can't get access to credit. "We've been trying for the last four to five years to borrow money to renovate our hospitals," he says. "And the situation on Wall Street is that it's impossible for us to get credit to do any modernization."
Last October, he says, he approached Vanguard about buying the DMC. Vanguard is majority-owned by the Blackstone Group, one of the world's largest private-equity groups, and has long focused on the urban market.
Keith Pitts, vice chairman of Vanguard, says the DMC was especially appealing because the hospital system is well managed and has an excellent staff, and the system's biggest problem – outdated facilities and equipment – is "one of the easier things to fix." By investing $850 million in the system, including building a tower for a children's hospital, Vanguard can bring back many of the insured patients that the DMC has lost to suburban hospitals, Pitts says. "The real growth here is capturing the business that's already in our neighborhood."
Vanguard is expected to issue $225 million in debt on Wednesday to finance the purchase.
Wachsmann remains concerned. He notes that the DMC has long been the primary source of care for members of his congregation – even those without "a magic card that says HMO or BlueCross BlueShield." But, he says, "When you move into a privately owned hospital, the people with the money make the decisions. Anyone in business or sales knows you have to turn a profit to stay open."
Mergers Spark Hope, Concerns
 For years, researchers, academics and policymakers have debated the differences between nonprofit vs. for-profit hospitals – especially on the extent to which they provide benefits to their communities. But while there are strong advocates on both sides, much of the research remains inconclusive. A 2006 analysis by the Congressional Budget Office, which examined more than 1,000 nonprofit and for-profit hospitals in five states, concluded that nonprofit hospitals devoted a slightly larger share of operating expenses to uncompensated care than did for-profit hospitals.
Jill Horwitz, a business and law professor at the University of Michigan who studies the hospital market, says the biggest difference between the two types of hospitals is in the services they offer. For-profit hospitals, she says, are more likely to offer lucrative services, such as cardiac and diagnostic services, while their nonprofit counterparts often provide more less-profitable services such as trauma centers, burn centers and alcohol- and drug-treatment programs.
That's one reason why Slemmer is concerned about Cerberus' proposed acquisition of Caritas. Currently, Caritas offers mental health and substance-abuse services. But Slemmer wonders whether Cerberus will "continue those vital services when they're trying to turn a profit."
Meanwhile, in Detroit, nurse Brown is more upbeat about Vanguard's pending purchase of the DMC.
"In the beginning, we were concerned about whether it would be good for our minority population, but it doesn't sound like that part will change," she says. "We'll continue to be the hospital that takes care of everyone. We don't turn anyone away."