Within days, the company that handles an average of more than 60,000 calls daily about Medicare will be deluged by new inquiries about health insurance under the Affordable Care Act.
The six Medicare call centers run by Vangent, a company based in Arlington, Va., will answer questions about the health care law from the 34 states that opted out of running their own online health insurance marketplaces or decided to operate them jointly with the federal government.
The Department of Health and Human Services estimates that Vangent's call centers will receive 42 million calls about the federal marketplaces this year, a daily average of up to 200,000; plus answer 2,400 letters and 740 e-mails, and host 500 Web chats daily. Customer service representatives will take consumers through the process — from shopping for a plan to enrolling.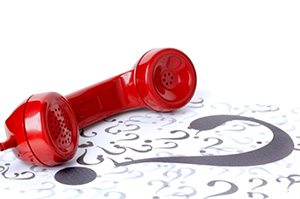 Running the 800-Medicare call centers may provide valuable experience, but Vangent's track record reveals that it was slow to adapt when changes in the Medicare program caused dramatic spikes in demand.
"It's going to be huge," said Bonnie Burns, a training and policy specialist at California Health Advocates. "The number of calls they are likely to get will probably dwarf anything they saw in Medicare."
Vangent declined requests for interviews.
The company will begin its new operation by the end of June.
The marketplaces, also called exchanges, will offer private health policies for individuals and small businesses, and government subsidies for many people for coverage beginning next year. Enrollment starts Oct. 1.
Vangent, a subsidiary of General Dynamics Information Technology, will run both Medicare and the federal health exchange call centers under a contract worth $530 million in its first year. The company, which was awarded the HHS contract in April, eventually may open as many as eight additional call centers and triple its staff to more than 13,000, government officials said.
Explaining plan options and subsidy eligibility won't be easy. Three years after President Barack Obama signed the landmark health legislation into law, nearly half of Americans still know little about how it affects them, according to a recent Kaiser Family Foundation poll. (Kaiser Health News is an editorially independent project of the foundation.)
Past Challenges
Shortly after the Medicare prescription drug benefit was introduced in 2006, the HHS inspector general found that 44 percent of callers reported problems accessing information — despite a similar 2004 inspector general's finding — and 21 percent of callers waited so long for responses that they hung up. When Medicare introduced a new prescription drug discount card in 2004, the Government Accountability Office reported that 29 percent of the call-center answers were inaccurate and 10 percent of the calls were disconnected.
HHS officials said that the company's performance in the Medicare call centers has improved and noted that the average time to answer calls is less than three minutes, down from more than eight minutes in 2007.
"We're building on our past experiences to ensure enrollees in the health insurance marketplace are able to accurately receive information," HHS spokeswoman Joanne Peters said.
Some advocates for Medicare beneficiaries say that problems persist at the Medicare call centers, despite improvements. Fred Riccardi, program director at the Medicare Rights Center, a patient advocacy group based in New York, said that some beneficiaries who call the group's free national help line reported that 800-Medicare representatives neglected to explain the option to appeal when benefits are denied, or the prescription limits of some drug plans.
Still, Burns said Vangent's past work could be an advantage. "They've had successes and failures over the years and have some sense of what they're dealing with," she said.
An HHS official said call-center representatives would "undergo extensive training" about the health law and basic insurance issues but could not provide more details. The official also said that HHS would evaluate Vangent's performance through a number of factors, including customer satisfaction.
Neither Vangent nor HHS would provide specific requirements of the contract or a copy. Employment ads  for the call centers' "temporary customer service representatives" seek applicants who have a high school diploma or equivalent and six months of telemarketing or secretarial experience.
An HHS spokeswoman said that customer service representatives will answer questions by reading from HHS-approved scripts and provide state-specific information. However, she would not provide examples of the scripts or say whether they were tested with consumers.
Neither Vangent nor HHS has announced that the company is getting help. But last month, the president of Maximus, a company that processes Medicare appeals, told investors that his firm received a government contract to operate the call centers with Vangent. Maximus officials declined to comment on that announcement or provide a copy of the contract.
"It's going to take a lot of tender loving care to explain to folks how to handle this, how to make the right choices, how to participate," said Richard Montoni, president of Maximus. "With the passage of time, those additional speed bumps will be ironed out and we will be out there running these programs as intended."
Contact Susan Jaffe at Jaffe.KHN@gmail.com.