Shortly after the Civil War, a group of civic leaders and physicians started a 20-bed hospital for children in a South Boston row house. Initially, much of the care was provided by nuns. The funding – a dollar here and a dollar there – came from donations. In recognition of its charity, the hospital was exempted from paying taxes.
Today, more than a century later, taxpayers still subsidize Children's Hospital Boston through a series of tax breaks valued at nearly $40 million. But most of the other similarities end there.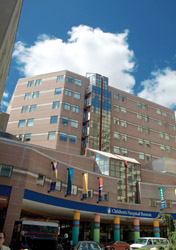 Children's Boston is now one of the largest and wealthiest children's hospitals in the world, with $1.3 billion in annual revenue in 2009, $2.6 billion in stocks, real estate and other investments, and a 125-employee fundraising unit that raises about $90 million a year.
As for charity, Children's Boston spends about $8 million annually on free medical care, less than 1 percent of its annual expenditures, according to the hospital's tax returns and other financial records.
Officials from Children's Boston declined numerous requests to be interviewed for this story. On their website, they say their charitable contributions go well beyond free care, including tens of millions for research, training doctors, clinics and other community benefits.
Many of the largest and richest children's hospitals spend relatively little on charity care, one of the main justifications for their tax breaks, records and interviews show. The figures vary by hospital. Children's Medical Center of Dallas, which has 559 licensed beds, spent nearly $22 million in 2009, according to its tax return. The 296-bed Children's Hospital of Wisconsin spent about $1.4 million.
Chart:  Charitable Spending By Children's Hospitals
Texas has far more uninsured children than Wisconsin – about 1.4 million versus 77,000.
Nationally, charity care accounts for about two percent of the business of the largest and richest children's hospitals. A spokesman for the American Hospital Association said the organization does not report charity care figures for the more than 5,000 non-profit hospitals nationally. Instead, it reports bad debt and charity care as one figure – $39 billion in 2009, or about 6 percent of expenditures.
Thanks to wide-ranging efforts by government and child advocacy groups, most children are insured. About half are covered by private commercial insurance. The rest are covered by Medicaid, the federal-state health program, or other taxpayer-funded plans.
The wide availability of insurance helps to boost children's hospitals finances but also creates a public relations quandary. If they give away so little in free care, what is the basis of their charitable, tax-exempt status?
In 2007, Congress held hearings examining charity care at nonprofit hospitals. Among the ideas it considered was requiring the hospitals to devote 5 percent of their expenses to charity care.
The trade association for children's hospitals responded that charity care is only one way to measure the contributions of its members. Children's hospitals also spend millions on research, child advocacy programs, neighborhood clinics and other community efforts.
"While the delivery of charity care can be an important service, it is by no means the only important charitable purpose or community benefit that causes a hospital to earn its tax-exempt status," the trade group's CEO, Lawrence A. McAndrews, said at the time.
Lawmakers didn't embrace the 5 percent charity proposal. But the IRS did expand rules nonprofit hospitals must follow in reporting their charitable efforts on annual public tax returns, including details about the free care they provide. Some children's hospitals have started to provide the information on their tax returns and the rest are expected to follow this year.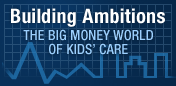 In the past, some children's hospitals have exaggerated the amount of free care by reporting their retail charges instead of the actual cost of the care. Others have lumped charity care together with bad debt or Medicaid shortfalls, which some financial analysts consider misleading. Now, they are required to report the actual cost of their free care and separate out bad debts and other shortfalls.
On average, Medicaid pays children's hospitals about 75 percent of the cost of the care they provide, according to the National Association of Children's Hospitals and Related Institutions. The shortfall costs the hospitals about $2 billion annually, the industry group contends.
Children's hospitals are able to cover much of their Medicaid shortfalls by raising the rates they charge commercially insured patients, an industry practice known as cost-shifting. The amounts vary, tax returns and other records show. Some hospitals are able to offset the bulk of their shortfalls. Others are less successful.
Keith Hearle, a consultant to children's hospitals on charity care issues, said the hospitals aren't required to spend excess funds to subsidize Medicaid. "They could use it for something else. The fact that they use it for Medicaid, which has well-documented access problems, is a decision to use those dollars for community benefit," Hearle said.
Congress' Joint Committee on Taxation has estimated that nonprofit hospitals benefit from nearly $13 billion in local, state and federal exemptions each year. Children's Hospital of Boston has reported it was exempted from $37.5 million in taxes in 2008, including $10.3 million in property taxes and $10.4 million in federal corporate income tax.
However, Children's Boston valued its community efforts at nearly $93 million, including $23 million in Medicaid shortfalls, $9.5 million in injury prevention and mental health programs, $27 million for medical training, $16.5 million for research and $8 million in subsidies for adolescent medicine and other health services.